Best Nursing Pillow for Breastfeeding: Most moms start out wanting to breastfeed their newborn; but, many stop breastfeeding because of difficulties. Set yourself up for success with breastfeeding by getting the right breastfeeding pillow.
BEST NURSING PILLOW FOR BREASTFEEDING
After exclusively breastfeeding all four of my children until they were each 14 months old, I can tell you that investing in a proper nursing pillow for the first several months is so important! I've used the same breastfeeding pillow for all four!
To get a good latch, the baby needs to be very close to you. The easiest way to do this (and to relax at the same time) is to have a proper nursing pillow. This is especially important during the newborn period when you are establishing your supply (and establishing a good latch!)
If you're in a Hurry…Here's Our Top Pick
| | Title | Price | Features | Buy |
| --- | --- | --- | --- | --- |
| Top | My Breast Friend | $$$ | Top Choice | Click Here |
| | Nook Niche | $$$$$ | Organic | Click Here |
| | Boppy Best Latch | $$$$ | New design | Click Here |
| | Ergobaby | $$$$ | Compact | Click Here |
| | Boppy Bare Naked | $$ | Classic | Click Here |
How to Choose the Best Breastfeeding Pillow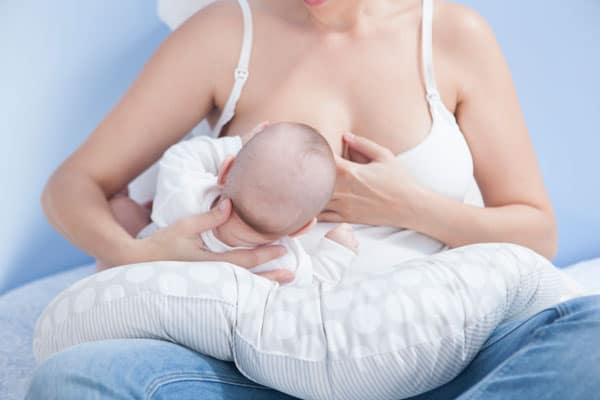 When looking for a breastfeeding pillow, you're going to want to take into consideration the size of your body and what size pillow you need to get the baby positioned just right. Specifically, you're going to want to pick a pillow that fits on your torso and elevates your baby's head so that they are at the same height as your nipple
What are the Advantages of a Nursing Pillow?
The major advantage of using a special pillow for the breastfeeding experience is comfort for both mom and baby. Using a pillow for the feeding process will also bring the baby closer to your body to promote a better latch for nursing (better latch If your baby suffers from reflux or colic, the pillow provides them with the support that they need to avoid having these problems during feeding time.
The other huge benefit to these types of pillows is their versatility. As an expecting mom, you can use the pillow before the baby arrives as back support. If you have a c-section, the pillow can also take the pressure off of your body during feeding to help you heal faster. You can also use this pillow during tummy time to promote your baby's muscle growth. As your baby grows, they can use the pillow to help them sit up!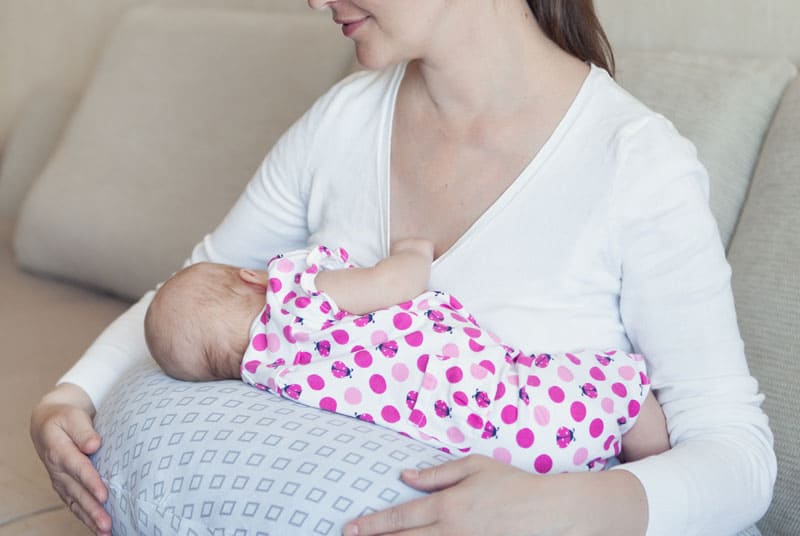 What Makes Nursing Pillows Different?
Breastfeeding pillows are available in a variety of shapes and sizes. For example, a lot of pillows are designed in a "C" shape so that they hug the front of your body and create a little ledge for the baby to rest on. Others are designed in a complete "O" shape so that they wrap around your entire body.
Yet another type of breastfeeding pillow doesn't conform to your body but instead forms a sort of "nest" around the baby to ensure that they are secure during feeding. The type of covering on the nursing pillow will also vary depending on the manufacturer. When searching for a pillow, you'll want to look for a fabric that can be easily wiped down in case of any spills (or thrown in the laundry machine–my favorite!)
What's the Best Way to Use Breastfeeding Pillows?
As you can see in this video below, you're going to want to make sure that you are in a comfortable position before grabbing your pillow. If your pillow has a clip, you're going to want to secure it around your waist and move the pillow pretty high up on your torso. The reason for this is that when you place your baby on the pillow, the weight from the baby will cause the pillow to move down your body a little bit.
Next, you'll want to scoot back in your chair and relax your body to prevent back and neck pain. Depending on the pillow, you may need to add some additional couch cushions or support underneath the pillow so it doesn't sink to your lap when you place your baby on it.
Once you have your baby on the pillow, you'll quickly find that you now have two free hands to help your baby establish a secure latch and support their head as needed during the feeding process.
<iframe width="560″ height="315″ src="https://www.youtube.com/embed/eDUakL1Y45A" frameborder="0″ allow="accelerometer; autoplay; encrypted-media; gyroscope; picture-in-picture" allowfullscreen></iframe>
Do I Need a Feeding Pillow?
The controversy with feeding pillows lies in this question: are they really necessary?. The short answer is no, you can have success breastfeeding your baby without a special pillow. However, the pillow supports your baby and allows you to be comfortable during the process and use your hands to help the baby as they need it.
When I was breastfeeding, the pillow changed my life. Having the ability to interact with my baby while knowing that they were safe and secure on the pillow during the feeding process was a total game-changer. I could relax more, as I wasn't hunched over and supporting them.
What Should I Know Before Using a Feeding Pillow?
There aren't any specific prerequisites for using a feeding pillow with your baby. A word of wisdom is that all babies are different, especially when it comes to nursing. Your baby may do better without a nursing pillow, which is totally fine!
The best combination will be whatever works best for both you and your baby. You should also know that not all feeding pillows are created equally. There are a variety of designs available on the market at all different levels of quality. You're taking the first step towards finding a pillow that will work for you and your baby by reading this article!
Reviews of the Best Nursing Support Pillows
The My Brest Friend Pillow is an "O" shaped pillow that is available in a variety of fun patterns. It is made from 100% cotton and encourages better posture during breastfeeding by alleviating the strain in your back, neck, and arms.
This pillow comes with a pocket to keep supplies accessible during feeding times. The My Brest Friend Brand is preferred by lactation consultants and birthing hospitals. The pillow features a clip in the back so that you can easily secure it around your body and tighten it to the desired position. The pillow can be wrapped around itself for compact storage.
This pillow is not washing machine or dryer safe due to the foam inside. To clean, use a damp cloth and mild soap. The cover on the pillow is removable and can be she'd in warm water on the gentle cycle. Avoid the dryer to prevent shrinkage. A unique feature about the "O" design is that it eliminates the gap that most crescent-shaped pillows have between mom and baby.
This pillow is also designed with quiet release straps so if your baby falls asleep after they are done eating, you can unstrap the pillow without disturbing them. The only real downfall to this pillow is that the foam layer does not have a protective covering. The covering on the pillow is not enough to prevent spills from leaking into the foam layer, which cannot be washed. A liner between the foam and the cover of the pillow would promote the longevity of this product.
Pros
• Cute and stylish patterns and designs available.
• Quiet release straps so you won't wake your baby up if they fall asleep.
• Removable cover that can be machine washed on a gentle cycle.
• No gap between mom and baby during feeding.
• Supportive for the baby during the feeding experience.
Cons
• No liner between the foam and the cover of the pillow.
• The foam part of the pillow is not washable.
• No solid color options available.
The Nook Niche Organic Breast Feeding Pillow features a "U" shaped design that goes around your waist but doesn't form the full circle like other "O" shaped pillows. This pillow does not have a clasp on the back.
It is designed with Nook's patented Pebble Fabric that is naturally water-resistant so any spills are easy to clean. The fabric is bathed in natural zinc, making it anti-mite, anti-mold, anti-fungal, and hypoallergenic. The Pebble Wrap is as soft as the infant's skin and is designed to keep both baby and mom cool and comfortable during meals.
This pillow is big enough to use with twins. It is made from eucalyptus, organic cotton, organic kapok, zinc, and a nylon zipper. The Pebble cover is removable and washable. You can easily use this pillow for breastfed or bottle-fed babies.
Something unique about this pillow is that it wasn't just designed for babies. As a sleep-deprived parent, you may not be able to resist the luxurious fabric for a cat-nap while baby naps. You can also use this pillow for tummy time with baby, a prop seat, or use it to prop up your tablet when it is rest time for you!
This pillow is made in the USA and is offered in solid colors. It is aesthetically pleasing and will fit in with any nursery decor you choose. This pillow has a higher price point than others on the market. Keeping the price point in mind, if you wash the soft fabric frequently you may see pilling. This can be an unexpected downfall of a product that is priced above the rest.
Pros
• Stylish design that will fit into any nursery.
• Soft covering that is resistant to spills.
• Made out of organic materials.
• Extra care taken to ensure it is anti-fungal and safe for your baby.
• Made in the USA.
Cons
• Significantly higher price-point than other pillows on the market.
• May notice pilling with frequent washes.
• No snap on the back to ensure a tight and comfortable fit.
Boppy Best Latch Nursing Pillow
The Boppy brand is well-known by moms everywhere–this specific one is an update to the classic. This particular breastfeeding support pillow is available in two styles and features two distinct surfaces. One side is firm for newborn latch success and the other is soft to help meet your needs as the baby grows.
This pillow was developed with a lactation consultant and the firm side features a soft Minky fabric that is contoured to help turn your baby towards you for an easier latch. The softer side has a cotton blend fabric that offers a more snuggly surface for when your baby grows. The belt is adjustable to keep the pillow snug against you during feedings. The buckles tuck into pockets for washing or you can take the whole belt off if you don't need it.
To wash this pillow, you'll need to remove the wipeable foam insert and the belt, and then you can toss the cover into the washing machine. The adjustable belt is unique to this pillow and makes it a great option for moms who have had difficulty finding a pillow that adequately adjusts around their waist.
However, if you tighten the strap a lot, you should note that there is not any padding on it which could be uncomfortable after extended periods.
You won't need to place a hand or arm underneath the baby while they are eating because this pillow will fully support them. This pillow may not be the best if you and baby get hot easily as the microfleece side often gets warm and will result in a sweaty mom and baby.
Pros
• Developed with a lactation consultant for an expert fit.
• Adjustable belt that may be nice for moms who are struggling to find their perfect fit.
• Easy to wipe down and wash.
• Contoured fabric to help turn baby towards you during the feeding process.
• Designed to work for babies as they grow.
• No need for a hand or arm under the baby's head because they are fully supported with the pillow when adjusted correctly.
Cons
• Microfleece side can get warm and result in mom and baby sweating.
• The strap could use more padding.
• Limited patterns are available for selection.
Ergobaby Pillow with Cover
Buy on Amazon
The Ergobaby Pillow has a unique design that features a "natural curve" for a wider "U" shape than other pillows on the market. It is available in three colors and is developed with lactation experts and nursing moms.
The unique contour of the pillow positions the baby tummy-to-tummy for comfortable breastfeeding support while still providing mom with an armrest. The pillow will position the baby at a comfortable height so that mom doesn't have to slouch during feeding–believe me, the back pain from slouching is real! You have to get ahead of it!
This pillow features a handle so it is easy to move from room to room or even travel with. The firm foam maintains shape despite frequent use. The interior lining has protection against spills and the outside plush pillow coverable is removable and machine washable.
This pillow will work for a variety of situations including breastfeeding, bottle feeding, tummy time, and bonding. The pillow is designed to support your baby as he or she grows. During infancy, you can lay the baby on top of the pillow for close support while feeding. You can also do a football hold on your side if that is more comfortable for you.
As the baby grows, you can move one side of the pillow away from your body to provide more support for their legs. This pillow may not work for moms who wish to be reclined during feeding time.
The pillow does not have a strap or way to tighten it around your body, so might create a gap between the baby and the pillow. For this reason, the pillow is not optimal for moms recovering from a C-section.
Pros
• Modern design featuring comfortable memory foam.
• Handle for easy transportation.
• Great for moms who prefer to feed their baby in a cradle hold.
• Machine washable and easy to wipe down.
• A variety of colors available.
Cons
• Cannot create a custom fit since this pillow does not come with a belt.
• Baby may outgrow this pillow fast.
• Not optimal for a mom who wants to be reclined during feedings.
Bobby Bare Naked Pillow and Positioner
We have this exact pillow-and have used it a lot over the last seven years! (It was a hand-me-down from a friend, so it's technically been used for six children!)
This Boppy pillow is made from polyester and cotton and is designed for your baby during the first twelve months of life. You can use this pillow for propping, tummy time, and sitting.
You can toss the whole pillow in the washer and tumble dry. To help the pillow keep its shape, Boppy recommends throwing a tennis shoe or tennis ball wrapped in a pillowcase in the dryer with the pillow. The pillow is designed with Miracle Middle stretch pillow that is supposed to fit most mom's waists.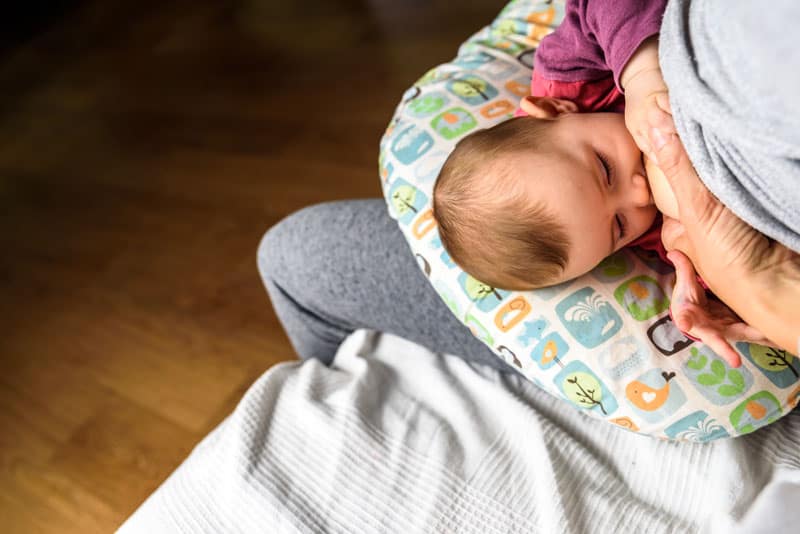 When purchasing this item, please note that it is just the pillow and does not come with a pillowcase. You'll have to purchase that separately.
This pillow helps with back pain associated with leaning over to feed your baby and works great for premature babies as well. This pillow allows you to have both hands free to support the baby in whatever way they need during the feeding process.
The wrap-around design means that you don't have to constantly re-adjust yourself during a feeding session. The downside to this is that if your baby is squirmy, they can easily roll around and move on this pillow which can make feeding a little more difficult. This pillow is quick to grab and "set up" because there are no straps involved.
Pros
• Easy and fast to put on.
• Stays in one spot after you put it around your waist.
• Trusted brand.
• Great for the whole first year of life.
• Helps support you so your muscles aren't sore after a feeding.
Cons
• Does not come with a pillowcase.
• Does not have a strap so can have a gap between you and the baby.
• Squirmy babies will have room to wiggle and roll around during feeding.
Motherhood Easier's Top Choice:
The clear winner of today's lineup is the My Breast Friend breastfeeding support pillow. If I were to buy a new one today, this is what I would buy!
Buy on Amazon
This pillow is the top choice for new moms who are looking for a customizable feeding experience. When picking a pillow, it is important that you are picking one that will be customizable to your body and allow you to have both hands free so that you can support your baby during the feeding process.
This pillow does just that with the adjustable strap! It is also available in a variety of fun patterns so you'll be able to pick one that matches your personality or your baby's nursery. The quiet release straps are also a unique part of this pillow that can't be found anywhere else. You'll be able to sit comfortably while your baby naps without risking waking them up!