Cluster Feeding: Cluster feedings can be very stressful and cause you to question so many aspects of your baby and breastfeeding. Imagine spending your day feeling like a zombie because of the lack of sleep you have been getting.
Your baby wants to eat all the time and is super cranky. You might be ready to pull your hair out just because you are utterly exhausted. Don't worry, we have all been there and know-how frustrating cluster feeding can be. Chin up, mama! It's just a short phase, and you will work through it.
What Is Cluster Feeding?
You may be scratching your head, wondering what in the world cluster feeding is. Cluster feeding (or bunch feeding) is basically what it sounds like. Your baby eats a lot during a specific time period. Back to back feedings with a very little break in between.
When you cluster feed your sweet little baby, your body goes into overdrive and starts producing even more milk. This is a fantastic way to build your milk supply. Isn't it amazing that our bodies can provide the amount of milk it needs just because the demand is there?
Cluster feeding takes place from the time your baby is a newborn and can happen all the way up until he is 6 months old. It's more common in newborns, though.
What Causes Cluster Feeding?
There are a handful of reasons why your baby wants to feed almost constantly. Take a look at these potential reasons why your baby is so hungry.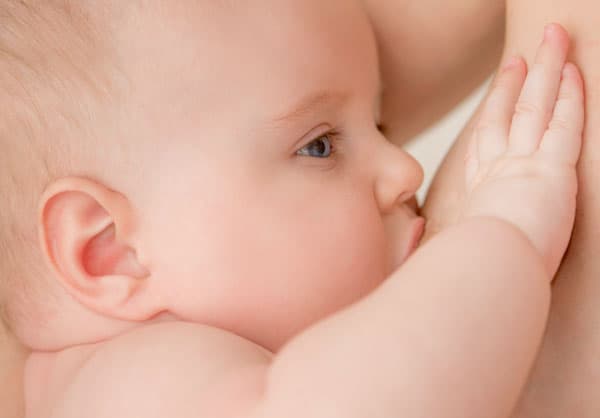 Growth Spurt

– There is a strong possibility that your little sweetie is going through a growth spurt. You will find that most babies cluster feed when they are around 3 weeks old and then again at 6 weeks old. Why? Because they go through rather large growth spurts at that time.

Sleeping Routine

– You may find that your baby will sleep for longer periods of time after he goes through a cluster feeding. He has filled his belly up and won't get hungry as soon in theory. Granted, you may have a baby that this isn't the case for, but many times it is.

Milestones

– As your baby develops, he will experience many developmental milestones. He will require much more food during this time as well as comfort from you. Feeding is a way that he can feel soothed and relaxed.

Your Idea

– If you find that you are preparing to go back to work or heading on vacation, you may want to boost your milk supply. One of the best ways to do this is to encourage your baby to cluster feed. This goes back to the supply and demand that your body is prepared for. This will allow you to pump more milk to store for later.
How To Deal With Cluster Feedings
I'm sure you are thinking that there are MANY other things you could be doing instead of feeding your baby for hours on end. I promise this is just a phase, and he will be in preschool before you know it! Embrace this time because it will go fast, and in the end, you will eventually miss it. Here are a few ways to cope:
Relax

– Use this as a time when you can shut out the rest of the world. Just sit and relax with your baby. Take deep breaths. Think good thoughts and enjoy all the snuggling you can.

Drink Lots Of Water

– This is so important, I can't stress it enough. Drink as much water as you can. Your body craves being hydrated, and you will need it to produce enough milk for your baby.

Catch Up On Your Favorite Shows

– If you find that you can't relax, that's okay. Turn on some binge-worthy shows, grab a blanket and cuddle as your baby-nurses.

Consider giving a bottle (of breastmilk or formula)!- Feeding a bottle to your baby takes less energy from the baby than breastfeeding. Use one of these milk savers to collect extra milk and use it for a before bed bottle!
Eat Nutrient-Rich Foods

– You need to introduce lots of healthy vitamins, minerals, and antioxidants to your body so it can produce enough milk. Plus, you will be so tired, you are going to need that extra energy boost.
Catch Some Sleep

– Whenever you aren't feeding the baby, you should try to catch up on your sleep. Have someone else help with chores or just let them be. You deserve some rest, and your body needs it. So give in and take a nap here or there.

Remain Calm

– I know that even the best mom in the world can get frustrated here and there when it's cluster feeding time. This is normal, but try not to become frustrated. Your baby will sense your stress, and it can make him stressed too. Just be calm and take it all in.
When To Worry
If you ever notice that your baby seems to be losing weight, there is a chance he isn't getting enough milk. Also, if he feeds for periods longer than an hour at a time or if this goes on for more than 48 hours at once, there could be an issue. If you notice anything that seems like you don't have enough milk, you should check in with your doctor and pediatrician.