Help Older Siblings Adjust to New Baby: As we get ready to welcome our fourth baby in a few months, we have started doing several things to help our three older children (21 months, 4, and 6 years) adjust to their new sibling. After introducing new siblings two times already, here's what worked for us (and what didn't!)
HELP OLDER SIBLINGS ADJUST TO NEW BABY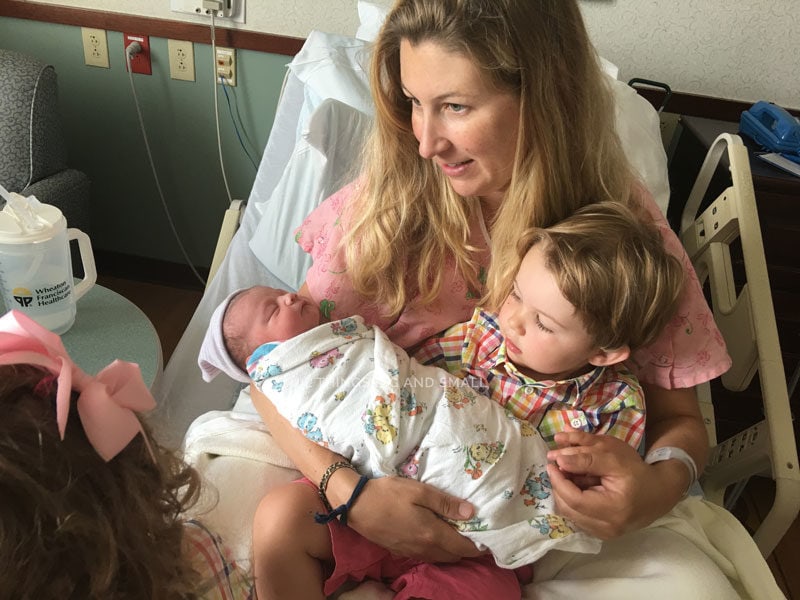 Our kids are all about two years apart (27 months apart for the first three, and 24 months apart between our third and fourth.) So while many of these tips are for toddlers, I also have special tips for older children (our first and third are four years apart, and our first and fourth will be six years apart.)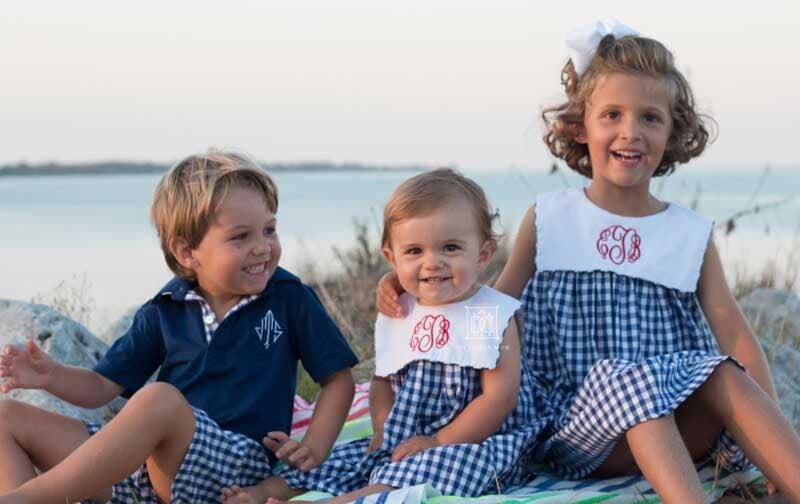 According to my mom, I had a particularly hard time adjusting to my younger sister (we are almost three years apart), so I try to be sensitive to it with my children. While a lot of how older children adjust and cope with a new baby is their innate personalities, there are a few quick tips that I will share that can make the transition smoother. I've broken the tips down into two phases (before the baby comes, and after the baby comes.)
*affiliate links have been used at no cost to you–see complete disclosure here
TIPS TO HELP OLDER CHILDREN COPE WITH SIBLING
1.) Talk about the baby coming and what to expect:
For a toddler, a baby is not a known entity. They know that they are little, and have probably seen babies many times; but, most kids won't know what to expect as far as changes in their daily life. It's a common joke that older siblings ask their parents "when is the baby going back?" or "when can we return the baby?" For a small child, something as permanent as a new sibling is a hard new reality–why wouldn't they think they were like a visiting friend who comes over once and goes home?
To help ease the transition before the baby comes, we talk about our baby coming and what newborns do, and how the older sibling can help. Specifically, I like to tell my children:
When the new baby comes home, it will need to sleep and eat a lot (out of mom's boobs.)
Little babies can't help themselves, so we have to take really good care of him/ her. Then I list ways big brothers/ big sisters can help (i.e. getting pacifiers, getting clean diapers, holding the baby, singing to the baby.)
How and where new babies sleep and tell them stories of when they were little babies.
Have the big kids help set up the nursery (even if it's stuffing diapers in a box!)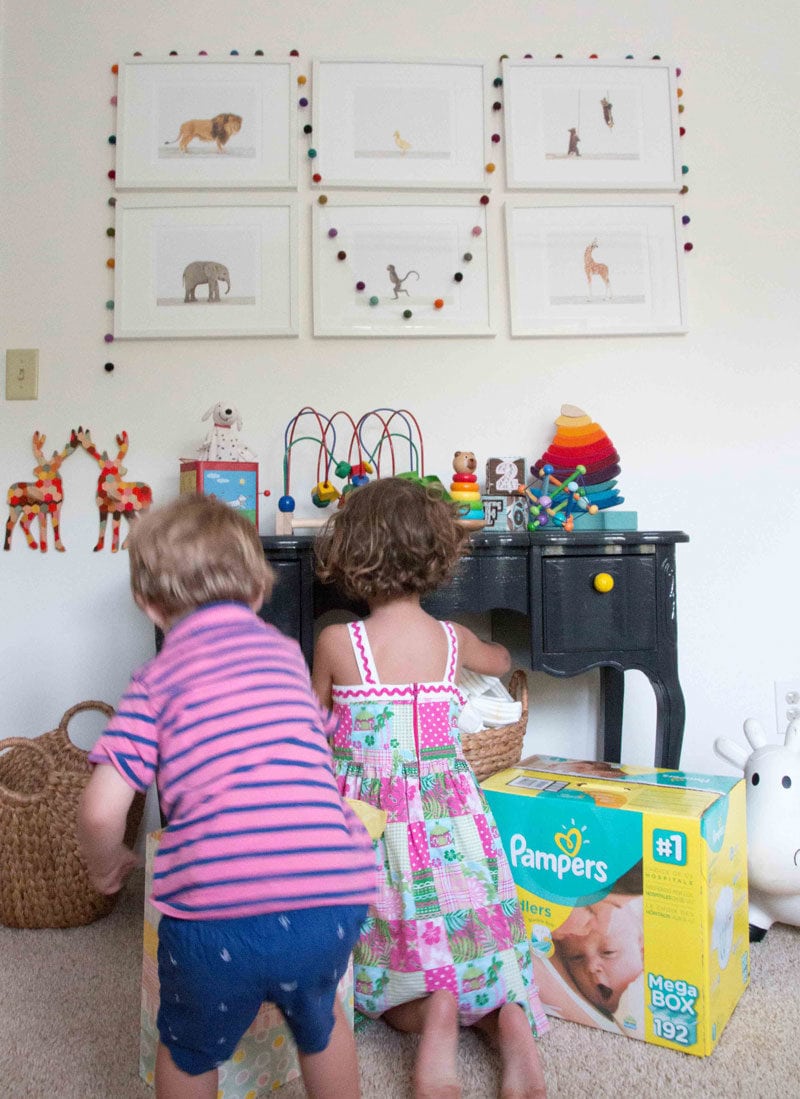 2.) Read books about getting new siblings:
We read a lot of books on babies and the ones that had concrete examples of a baby in a child's daily life were our favorites. We found these books to be our favorites:
3.) Discuss with your child what is going to happen when the baby comes:
Letting children know what to expect when you have the baby, helps them mentally prepare for you not being there. Talking about all these things really helped prepare my older children for the day when we did go to the hospital, and she woke up to her Grandpa in the morning!
Try to answer these questions for your child ahead of time and frame them in a fun way:
Are you going to the hospital?
Who is going to stay with the child? MOM TIP: Is a favorite aunt, uncle, or grandparent going to come and stay? Maybe purchase some special doughnuts or breakfast treats ahead of time for the special day.
Will the child come and visit? Let your child know that they won't be alone and that they can come and visit the new baby at the hospital. MOM TIP: Set out a sibling meeting outfit ahead of time so your family can dress them up as you would like!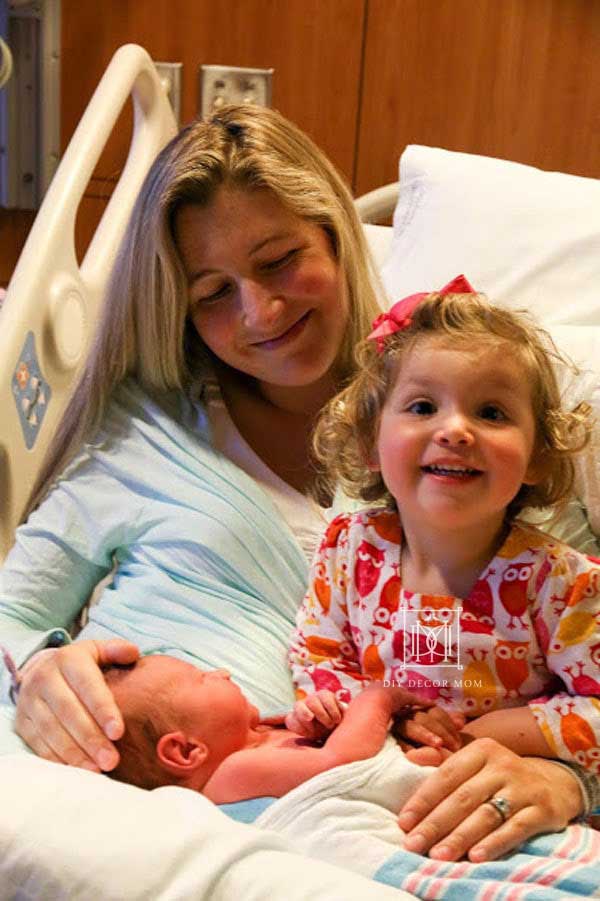 2.) Gather some activities and new toys
In our family, I like to have the baby give each older sibling a new toy or activity. It doesn't have to be a big thing–it can be a book or a coloring set of markers; but, it's a nice way to set the stage for their friendship, plus it helps make the hospital a positive experience (as well as occupy them while the family is visiting.) Hospitals aren't known as the most child-friendly places, so having age-appropriate activities ready for your older children is key!
Even if your kid is not interested in the new toys at the hospital; it will be good to have them take home a new toy/ game to practice at home when you are nursing nonstop and occupied with baby.
MOM TIP: If you plan on nursing your baby, prepare a "nursing box" for your older children–books, games, heck, a tablet if necessary that they can do when you are giving special attention to the newborn.
You can always buy them a baby doll of their own beforehand and practice mothering skills. Or have the new baby arrive at the hospital with them as a gift!
See all our favorite toys for every age range here:
3.) Help your Husband take a more active role:
Two months before Jack was due to arrive, I had my husband start putting our firstborn, Bowe, to bed at night. Up until that point, she had really been adamant that her mommy put her to sleep. Knowing that I was going to need to rely on him and other people to put her to sleep and get her in the middle of the night if need be when the newborn came, I started to let Dad take over more. We have done this with every child, and now my husband puts the big kids to bed, and I put the baby to sleep.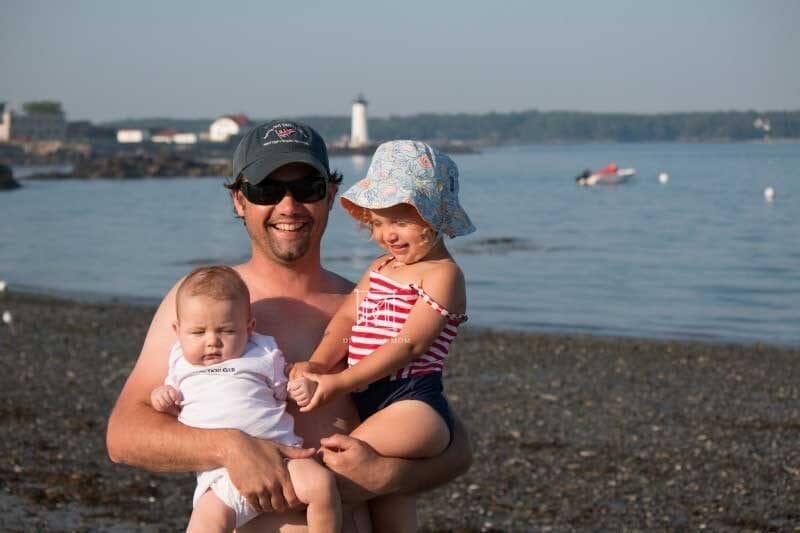 Making this transition to daddy putting the big kids to sleep before the baby came is a lot easier for everyone if you do it before the baby comes.
This is important for several reasons:
The older child won't feel like the baby was necessarily taking away time she would have had with her mom.
When the baby comes, your older child still feels like they have their "point man" in place.
You can get more sleep and don't need to wake up in the middle of the night to attend your older child (you'll be awake with your newborn plenty!)
The best part of this is seeing your husband and your child(ren)'s bond grow even stronger 🙂
4.) Strengthen your support system and take things off your to-do list:
Don't be afraid to ask for help. This is something that I have struggled with (and still struggle) to this day. Asking for help does not come easily to me. But, ultimately, having other people help me with my older children helped both me AND my children adjust to the new baby.
Remember, your child's world is changing irreversibly in one day–there is going to be less of you for a few weeks. Arrange in advance for special one-on-one time with family members and your older kids, so their transition is easier:
Set up playdates with a neighbor of similar ages as your firstborn.
Have a family member take your older child on special "out of the house" dates. My kids would look forward to going to the zoo, the pool, or even the park solo with their grandparents or aunts and uncles.
And yes, this might hurt you a bit. I remember when my oldest asked for her Dad or her Grandma instead of me to put her to sleep. It was sad for me; but, it was also a relief. She loved spending time with them, and they were giving her what I couldn't.

Similarly, make time for one-on-one with your older child(ren): Ask a family member to watch the baby for an hour (believe me, this will not be an unpleasant task for most people!) Sit down and read a book with your child or do some coloring. Having special attention from you will be a breath of fresh air for your child, and it will be good for your newborn too!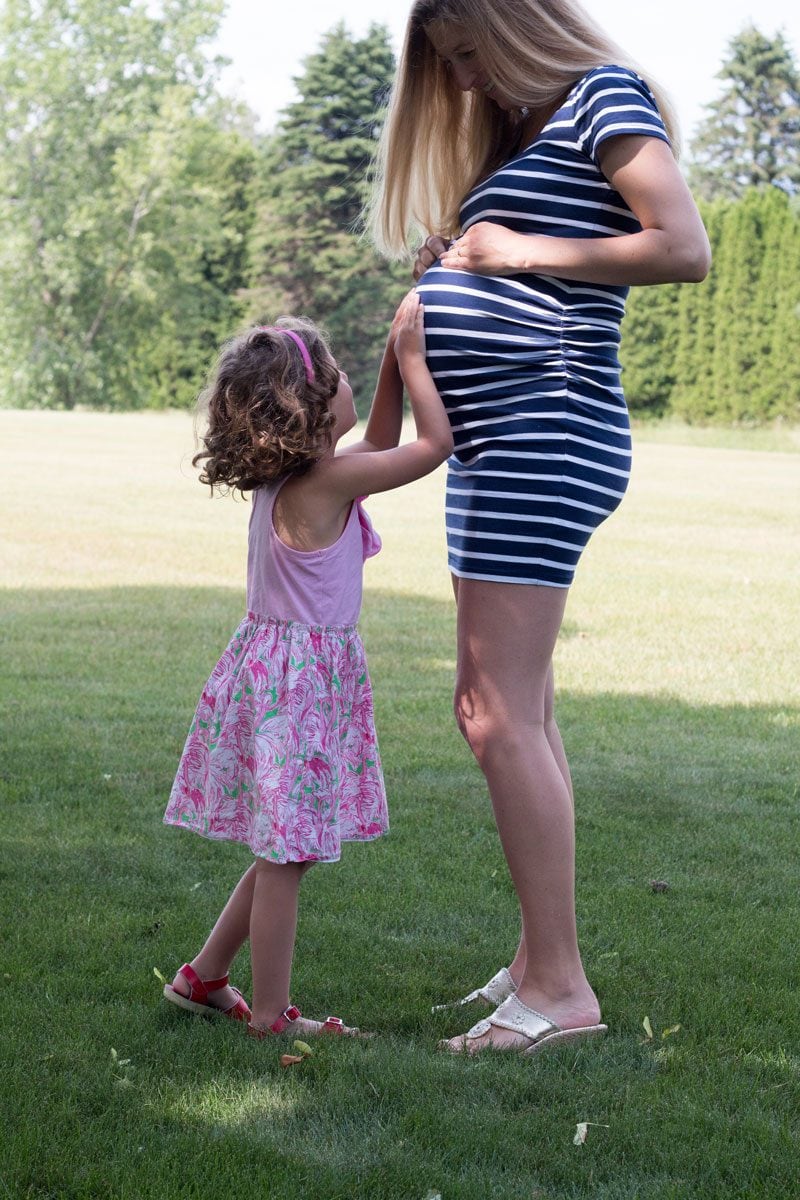 Household Tasks to Outsource:
Grocery Delivery: You have a newborn and do not need to be at the store! We love using shopmeijer app because it is so convenient. You can save your grocery list in the app, and reorder your most common items easily with just your phone. This is also a lifesaver when you realize you are out of something and don't want to schlep your kids to the store!
Grocery Shopping: If you don't like grocery delivery to your door, think about ordering it ahead of time and picking it up in the car with Curbside Pickup. Even with lots of help from family, you'll likely still be out of the house dropping your children off at school or going to doctor's appointments, so it's easy to have your groceries done for you, and you can pick it up curbside. (I mentioned these two things plus more ways to gain more time in my blog post–4 Tips to a Less Stressful Holiday which apply to the newborn phase as well!)
Cleaning: You all know I like cleaning my own house (see my daily cleaning schedule here); but, there are times and places for hiring a cleaning lady. When you have a newborn or are very pregnant are two of those times! Hire a temporary cleaning lady to do things that you hate doing. When your up all night with a newborn is not when you need to be scrubbing toilets.
Meal Delivery: While I am not a huge fan of meal delivery options, because many of them still entail lots of cooking, there are several companies which provide premade food that is super convenient for the newborn phase when you are sleep deprived. If you don't feel up for paying for it from an outside company, ask relatives for a few meals or prepare them in advance. People are more than happy usually to help in any way they know they can.
Dog Walking: Yes, this might seem weird; but, if you have high energy dogs (we do not), but I did have a traveling husband and two Great Danes with my first and second, you might need a dog walker the first week or several weeks. Taking one task off your plate will be great for your psyche. Your dogs can go to doggy daycare or have solid walks without you leaving the house.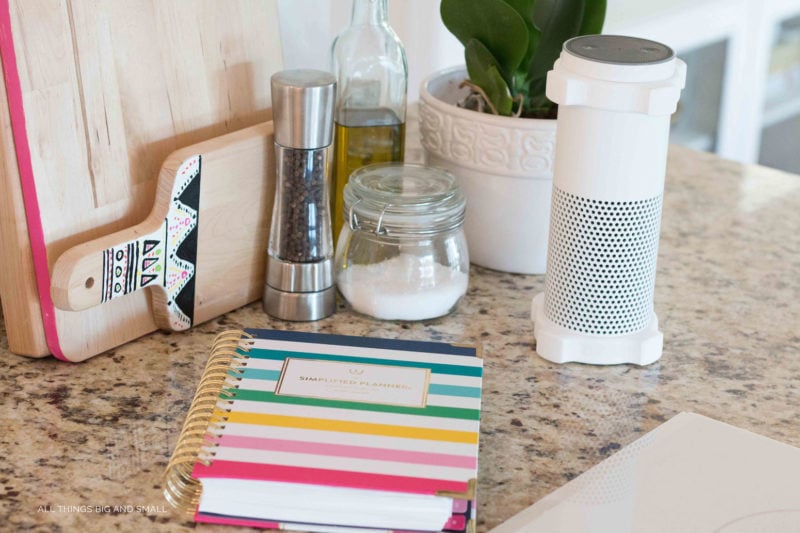 5.) Make any household changes or routine changes ahead of the baby's arrival:
With my first and second, we weren't transitioning her out of her crib or her bedroom; so this wasn't as big of an issue. However, with my second and third, we transitioned my son out of the nursery to make room for the new baby at least 6 weeks (optimally more) ahead of the new baby's arrival. We didn't want him to feel that the baby had taken his room and displaced him. Things we also transitioned ahead of time:
Potty training: To minimize any setbacks to potty training, we potty trained our first child three months before her younger sibling arrived. With my second and third, he wasn't ready (read How to Potty Train Your Stubborn Child here), so we waited until the time was right.
Weaning the pacifier: My first child took a pacifier, my second did not, and my third is full-on addicted! Three months before my second child arrived, we weaned the pacifier, and plan to do the same with our third and fourth. You don't want your older child stealing the baby's pacifiers!
Moving rooms/ transitioning cribs: Phrase it as your child getting their new big boy/ big girl room and bed instead of displacement. We made a big event of it complete with a new stuffed animal and new bedding to ease the transition out of the nursery.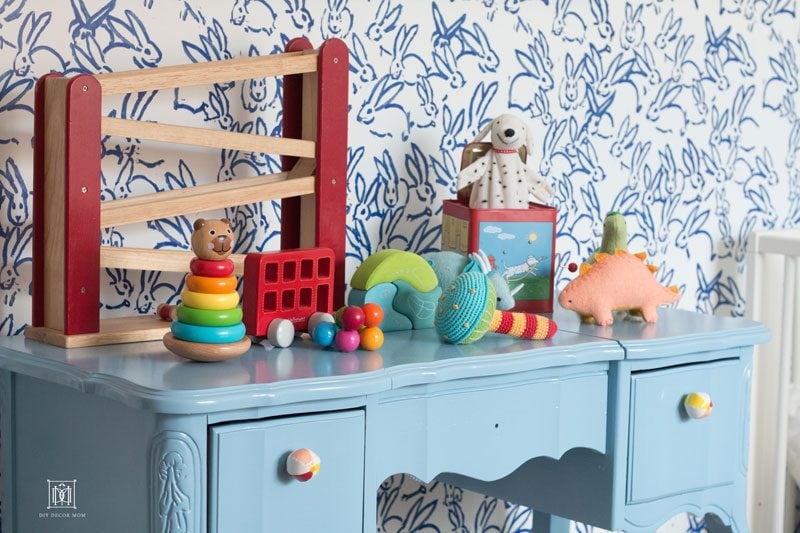 See all of our children's rooms here: baby boy nursery, big boy nautical bedroom, and our shared girls room
6.) Use welcoming language and emotions:
By phrasing the new baby in welcoming terms and using "our new baby" instead of "the new baby" will help your child realize that their new sibling is part of the family.
Emphasizing how they are becoming a big brother or big sister, complete with responsibilities, will help them cope with the new family dynamic.
Help your toddler or older child label their emotions if they can. MOM TIP: I find watching Daniel Tiger's Neighborhood to be particularly helpful with this (consider this your recommendation for your child to watch TV:). As a result, my kids are very good at labeling their emotions. Jack will say "I is mad at Bowie" or "I is so sad!" I then reaffirm their emotions, "I know you feel sad right now," let them know that I feel that way too sometimes and talk about what we can do to make it better.
It is natural for your older kids to have some negative emotions (no matter how much positive prep. work you do!) Let them know it's ok for them to voice it to you, that you understand, and still love them.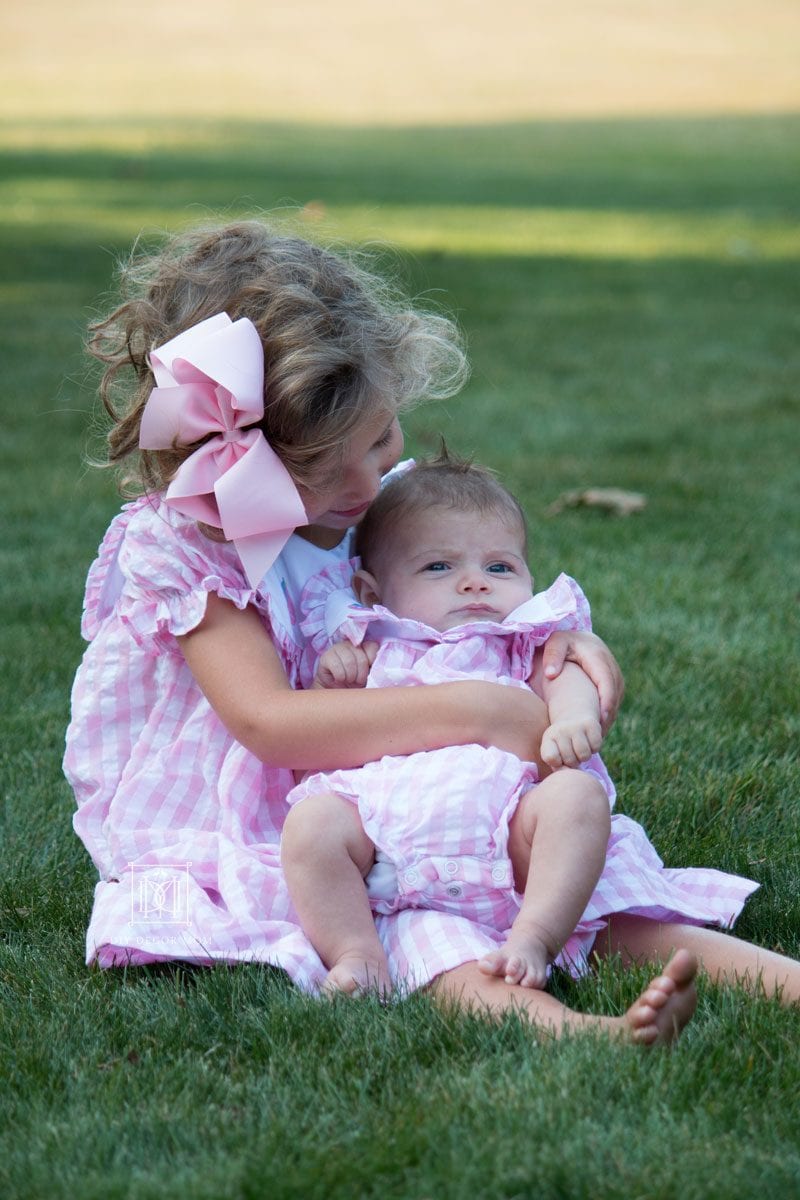 7.) Give yourself (and your kids) some grace:
Transitions are hard for everyone. Don't expect yourself or your kids to be at the top of your game. Remember these things:
Leave your schedule open–limit your commitments for work and personal for the first several weeks. If you want to go out, you can; but, you won't be forced to!
Keep your expectations low, and remind yourself that the newborn phase is just a phase. Life will not always be this hard. You will sleep through the night again. Your tummy will go down and you will ride a bike someday! Your main job as a mom of two (or more) is to be there for your kids. Forget what your house looks like, and don't go looking at other postpartum moms on People Magazine or Instagram! You never know what is really going on behind that #postpartumselfie.
Your child(ren) WILL adjust. They will eventually be best friends. But, it won't happen overnight.
Regression happens–expect some level of regression from your kids, and understand that it's just a phase.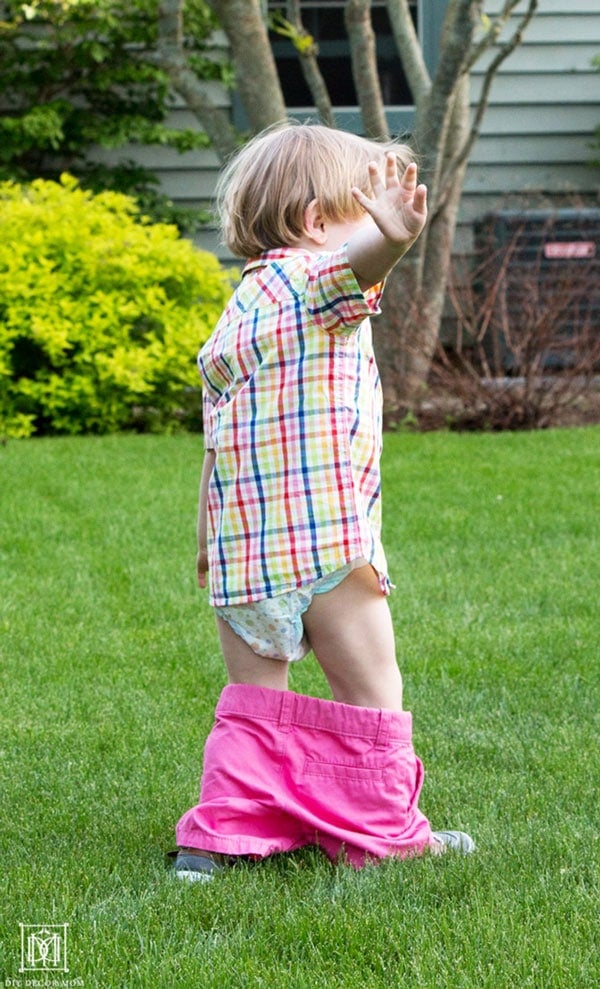 Make sure you don't miss these posts:
Newborn Must Haves–even as a fourth-time mom, I am going back to these and making sure I have everything I need!
Hospital Bag Checklist–second babies seem to come quicker than first–don't be unprepared!