Hospital Bag Checklist for Baby: Are you packing your hospital bag for labor and want to make sure you don't miss anything? Here is a printable hospital bag list for mom and baby so you don't forget a single thing–from a mom of three who forgot stuff the first time around and vowed to never forget stuff again! Plus, I share the best hack that I learned from our doulas that saved our sanity in the hospital!
HOSPITAL BAG CHECKLIST FOR BABY
After having four babies at two different hospitals, I can tell you for a fact that it varies what certain hospitals will offer you; but, most of the necessities will be there. That being said, it that doesn't mean you will like what they offer. Here is the complete list of everything you need in your hospital bag for labor and delivery and what you should skip! Plus, I'll share my best tip for hospital bags that has saved us so many headaches while in the hospital! Make sure to print out this checklist so you don't forget anything!

WHAT TO PACK IN YOUR DIAPER BAG FOR HOSPITAL
*affiliate links have been used at no additional cost to you see my complete disclosure policy here
CLOTHES:
LOUNGE PANTS: No surprise here, but you are going to want to pack your comfiest clothes for the hospital. Now the trick is that they need to be cute (you will be taking lots of pictures;) but, they also need to be resilient. Labor is a messy business and most of us don't look like Kate Middleton post birth (yes, I am still wondering how in the world that unicorn of a woman stepped out with pantyhose on seven hours post birth!) Hospitals are usually quite cool, so I like to pack a pair of comfy lounge pants here are some super cute budget friendly ones and slightly more expensive ones here.
ROBE: A robe is key because you are going to be constantly nursing the baby and getting undressed to be monitored by the L&D nurses. I found that by wearing a beautiful robe, I felt pulled together and ready for pictures while still being comfortable. This beautiful blue and white robe and budget friendly blue robe here are both great options for postpartum.
NURSING TANKS: I've tried quite a few nursing tanks (and have been pretty much wearing them nonstop for the past five years) and hands-down these are my favorites. Cheaper ones have dug in and irritated my skin with the clips. You can see it's what I'm wearing in the picture above underneath my robe.
NURSING BRA: Postpartum your boobs are going to be growing rapidly as they fill with milk. This nursing bra is my go-to for the first few weeks when I'm not wearing a nursing tank. It is comfortable and not too expensive. Plus, it will accommodate nipple shields and lanolin cream (both are available at the hospital) if you have difficulty breastfeeding.
GOING HOME OUTFIT: Now this outfit is totally up to you. I have never been one for a big show or matchy-matchy outfits. Instead, I usually packed a pair of maternity pants or shorts, a cute top that is loose-fitting, and my nursing tank, and easy to wear shoes (flip flops in the summer, flats in the winter).
SOCKS, FLIP FLOPS, OR SLIPPERS: Alright, so I am a Grade A Germaphobe. So I always packed flip flops (easily washed when I get home), and socks. Slippers grossed me out because they're hard to wash and anything that touches the floor at the hospital, in my opinion, should be washed. I wore these flip flops when I gave birth in the summer, and my cute slip-on shoes when I gave birth in the winter.
[show_shopthepost_widget id="3171015″]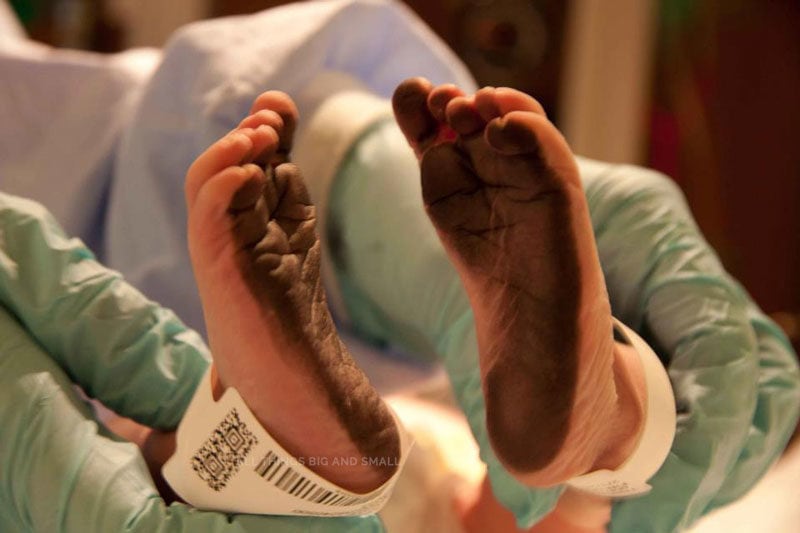 PERSONAL CARE ITEMS TO PACK IN YOUR HOSPITAL BAG
PILLOW AND EYE MASK: I am a pillow snob but after not bringing my own pillow for my first baby, I always made sure to pack one for my subsequent deliveries. Like I said, I am a germaphobe, so I brought this washable allergy-resistant one in a double pillowcase (both of which got washed ASAP when I got home.) An eye mask is totally up to you; but, some people find it useful. I didn't think it was necessary because, well, I didn't sleep much anyway in the hospital and when I did I was so dead tired an eye mask wouldn't have made a difference!
WATER BOTTLE: This is an absolute must-have! Giving birth is HARD work! I have never worked so hard in my entire life. With my first daughter, we arrived at the hospital at 9.5cm dilated. We thought she'd come right out. Well almost four hours of pushing later, she arrived (natural vaginal birth.) It was a lot of work. Staying hydrated was key, especially, because they will give you an IV later if you can't pee after birth to make sure you don't get dehydrated. Believe me, you need this water bottle. It is easy to figure out if you're having enough water because of the size of it. I drink three of these a day and it is crucial for breastfeeding that you drink enough!
LIP BALM AND LOTION: Hospitals are super dry for my skin, so I make sure I pack my favorite lip balm and some hand moisturizer (you'll be washing your hands a lot with a newborn!) Remember to print out the hospital bag checklist for baby! This is way too much to memorize! Click on the button below to go straight there! PSSST! I just watched a very famous beauty blogger say she puts this exact lip balm on every day on the top of her cheekbones for a slightly dewy look (and I can use all the help I can get after I give birth!)
HYGIENE ITEMS TO PACK FOR HOSPITAL:
TOILETRIES: All the usual suspects should come with you–especially deodorant. Have I mentioned giving birth is quite a workout? LOL. And the postpartum hormones are no joke! Bring a handy toothbrush and toothpaste as well, because with long labors you will often be "awake" for extended hours and forget the usual routine of brushing your teeth. (deodorant, toothbrush, toothpaste)
MAKEUP: Now this is a hot topic. Do I think it necessary to wear makeup after you've just given birth? HELL NO! It is totally up to you! However, I found it reassuring to be able to put on a little concealer (I burst all the blood vessels in my eyes and my face almost all three times.) A bit of mascara and some bronzer just makes me feel better and look better in photos.
HAIR CARE: Make sure to pack some shampoo, conditioner, a hair brush, hair ties, and dry shampoo in your hospital bag! And yep, dry shampoo is going to be your new best friend! Make sure to pack that too–you will find it really useful when you don't feel like showering. If you have long hair, you are going to want to pack this brush! Not only is it compact but it gets out all the tangles!
BODY WASH: You won't want to use soap on your lower regions until you're given the a-ok by a doctor and will be using a peri-bottle for most of the first couple weeks to rinse the blood, but you'll want some soap for your armpits and other bodily regions. Believe me, you'll be happy I included this on the hospital bag checklist for baby!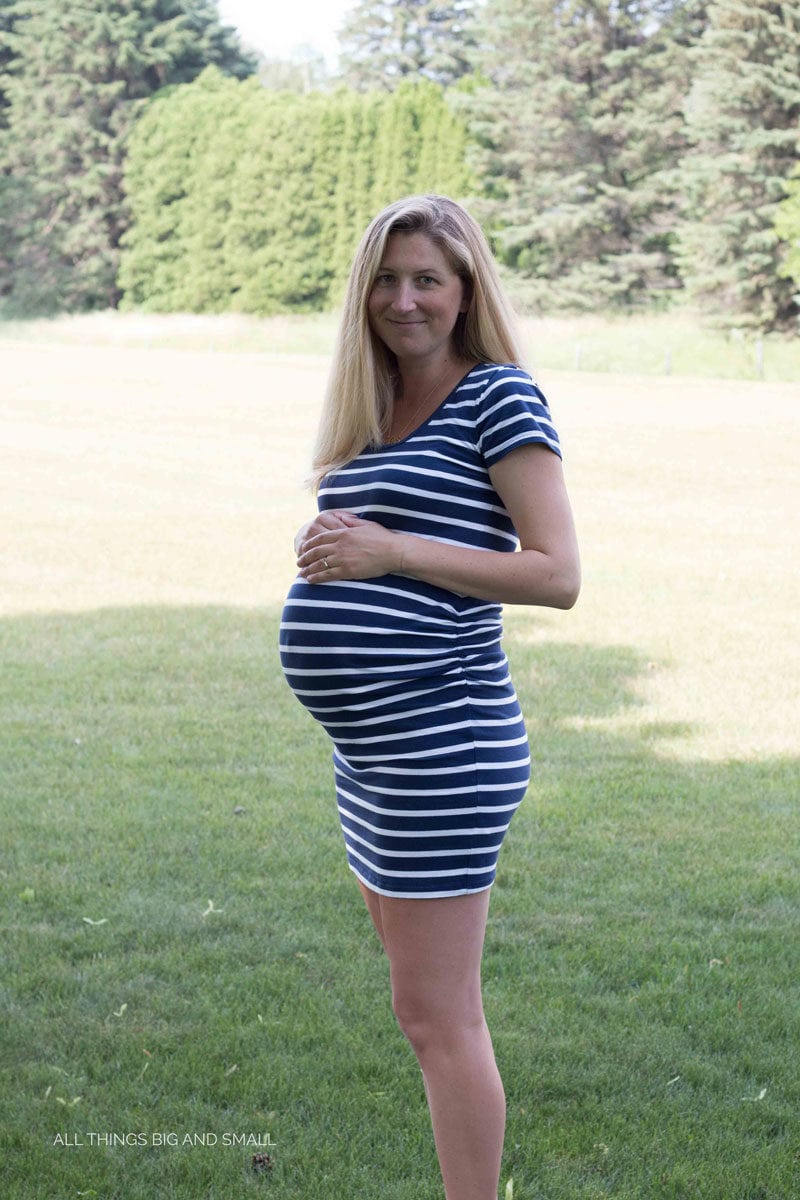 BABY ITEMS FOR HOSPITAL BAG
INFANT CAR SEAT: Make sure to install your baby's car seat before you go into labor! (I talked about it at length in this post on 21 Things To Do Before You Give Birth.) This is the car seat we have and we love it! You won't be allowed to leave the hospital without a properly fitting and installed infant car seat.
GOING HOME OUTFIT: Now, this is something I wish I was better at. We always waited to find out the gender of our babies, so I never had a super Pinterest-worthy outfit to go home in. That being said, I always packed a cute version of a boy outfit and a girl outfit but nothing too expensive (blowouts happen!)
BLANKET: You'll be sent home with plenty of inexpensive but amazing hospital newborn blankets but they're not so cute. I always brought our favorite beautiful white cotton blanket which is nice and heavy to keep our babies warm. This one is adorable too and much more budget-friendly!
PACIFIERS: Yep, another taboo topic. But let me preface this–I breastfed all three of my babies until 14 months exclusively. Making sure they had a good nursing latch was very important to me. However, I also elected to use a pacifier in the hospital with my second two kids. Lactation consultants discourage giving a pacifier to newborns when they are nursing because they are worried about the latch suffering. We've had no issues with it, but it's up to you. Depending on the hospital they will either supply you with some pacifiers or not. If your kid taking a pacifier is important to you, bring an assortment to try.
NURSING PILLOW: This is completely up to you. I have never brought my nursing pillow to the hospital because I just used the pillows they had there. Do what you want, feel free to bring it if it makes you feel better.
BEST MOM HACK FOR THE HOSPITAL BAG
You will think I'm crazy for saying this but instead of bringing a million small bags, bring one ginormous wheelie bag. Listen, your husband is going to be responsible for unloading the car, walking you to triage, going from the triage room to the labor & delivery room, and then the recovery room. The hospital staff will transport you but your husband is in charge of all your stuff. Make it easy and use a wheelie. One bag to carry everything! Best trick ever that we learned from our doulas! Use these small packing bags to contain the different categories of stuff, so it's easily organized!
And don't forget to print out the hospital checklist for baby!

OTHER ITEMS MOMS NEED FOR THE HOSPITAL
ID & INSURANCE CARD
BIRTH PLAN (if you have one) see my thoughts on birth plans here and why I never wrote one out.
iPHONE and CHARGERS: You are going to be taking lots and lots of pictures!
CAMERA: Bring your good camera, I don't care how good your phone camera is, you are going to want your big DSLR for this once in a lifetime occasion.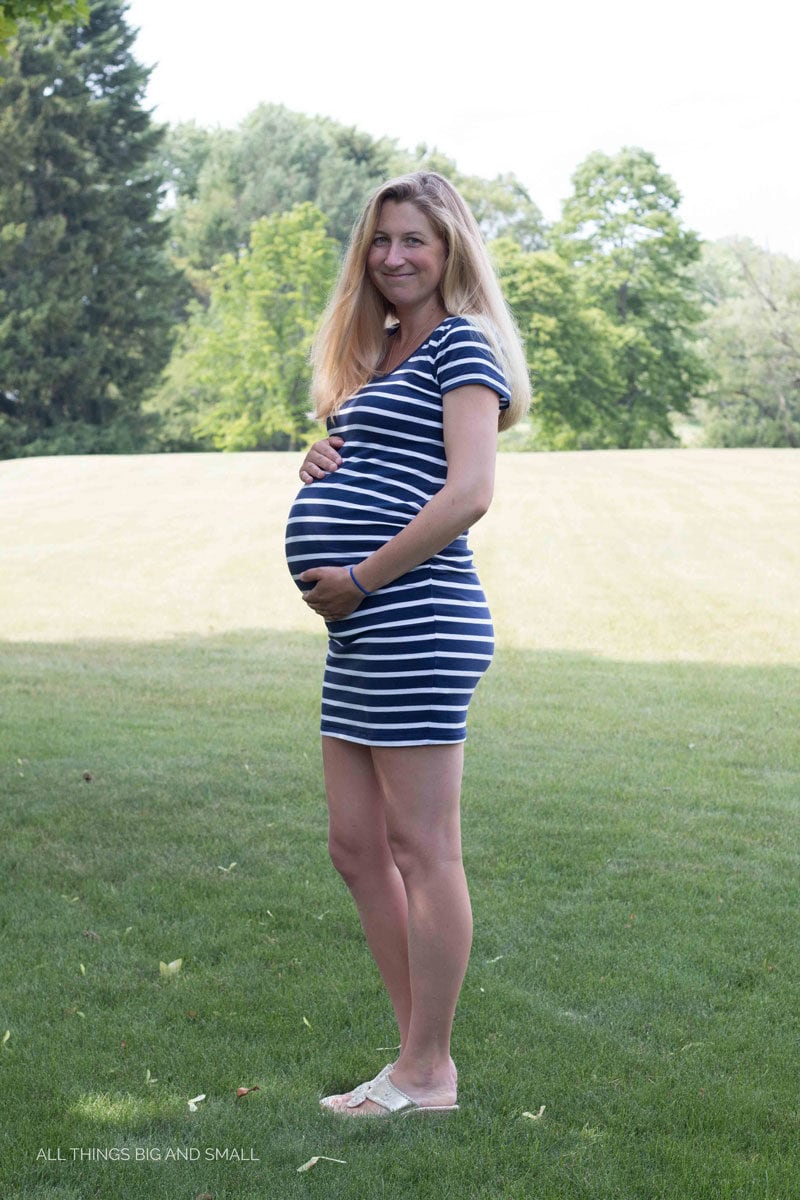 FREQUENTLY ASKED QUESTIONS FOR HOSPITAL BAGS
How far in advance should you pack your hospital bag?

I went into labor with my first exactly on her due day, and with my second and third two weeks early. I recommend packing your bags at 34 weeks. Anywhere from 36-40 weeks is considered full-term, so you should be ready to go anytime then! Pack it earlier if you think you are likely to go into pre-term labor.

Do you need to bring your own diapers to the hospital?

No. They have everything your baby will need at the hospital (onesies, blankets, diapers, brush for their hair, shampoo, diaper cream). However, if you have a preference for natural ones you are more than welcome to bring yours there. I wouldn't recommend bringing your cloth diapers, however, because of the meconium. Until your baby clears the meconium, don't use your cloth diapers. Bottom line: you don't need to bring your own diapers to the hospital in your hospital bag.

What should I bring home from the hospital?

Insider tip: Stock up on everything you can from the hospital! Make sure to ask for extra ice packs for your bottom, mesh undies, supersize hospital pads, and even lanolin balm for your nipples!