What to pack in your baby's hospital bag: If you find yourself asking, you might be close to your due date. If you are beginning to think about the hospital bag for baby, check out this list below. You will find a great list to consider packing in your newborn's bag.
Depending on your hospital and what they will give you, will depend on what you need to pack. Most hospitals supply diapers, sleep sacks while you are there, baby wipes, and more. So, packing for the hospital for your newborn can be pretty straightforward. They will mostly eat, sleep, and require cuddle time with mom and dad. I always recommend a bag for baby and a hospital bag for you!
What To Pack In Your Baby's Hospital Bag

Car Seat
Granted, this isn't your diaper bag, but make sure that your car seat is secure and ready to go in the vehicle. If you are unsure of how to latch it in the car some police stations or even firehouses will install car seats for free to help parents-to-be.
Coming Home Outfit
I love this part. You can pick what outfit you get to bring your baby home in. This is a lot of fun for parents to pick a special outfit out to snap a picture in. You also could consider packing extra outfits if you plan to do photos while you are in the hospital.
Swaddle Blanket
Even if your hospital gives you a blanket, there is a chance it could get dirty before you leave. Having a soft and fresh swaddle blanket in your bag is always welcome for parents. It is a way to swaddle your newborn to help them feel secure. If you are unsure how to swaddle, a nurse will guide you!
Nursing Pillow
If you plan to nurse, pack your nursing pillow. This is for you and your new baby. It will help keep them comfy as they learn to latch and feed, and will help with being easier to hold the baby in the same position.
Pacifier
Having a pacifier is a good item to pack. Now some who are breastfeeding are taught to not offer a pacifier at first, so they don't get confused, but that is up to you if you want to use one or not.
Diapers and Wipes
It isn't a bad idea to get some diapers and wipes packed in your hospital bag. Even if your hospital provides diapers and wipes, you will want some for the ride home. Babies go to the bathroom often, so having some on hand, even if you are only 20 minutes from home, is essential.
Plus, some hospitals only have wipes you have to wet with water. So you might find disposable ones are easier to use.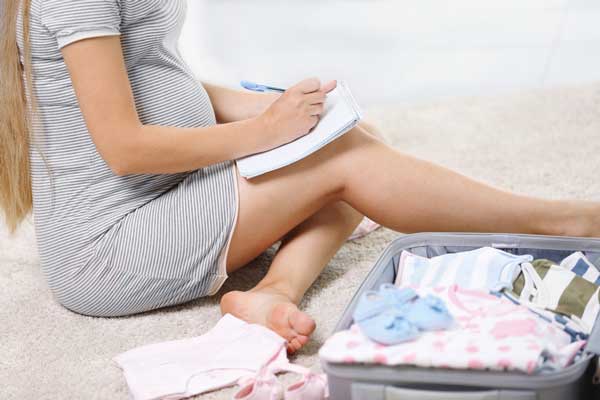 Socks, Hat, Mittens
Consider adding in some socks, a hat or two, and mittens to protect your baby from scratching themselves. Your little one must stay warm, and these are exceptional items to pack just in case.
With packing your baby's bag, make sure to pack one for you and your partner as well. Then be aware of labor signs, so you can be ready and get all things packed and head off to the hospital.
Whether your water breaks or you are timing your contractions, you will have a good idea if this is the real deal or not. I recommend having your baby's hospital bag, ready to go around the 35-week mark. If you are a higher risk pregnancy, maybe pack it early in case you go into preterm labor.
Did I miss anything? What do you feel needs to be in a baby's hospital bag?