Kids Summer Schedule: Even in the summer, it's so important for kids to have a predictable routine. Although we keep our schedule pretty open (it's summer after all!) The kids and I both benefit from having a few scheduled activities and daily chores! Here are our favorite activities for young kids from a mom of four!
KIDS SUMMER ROUTINES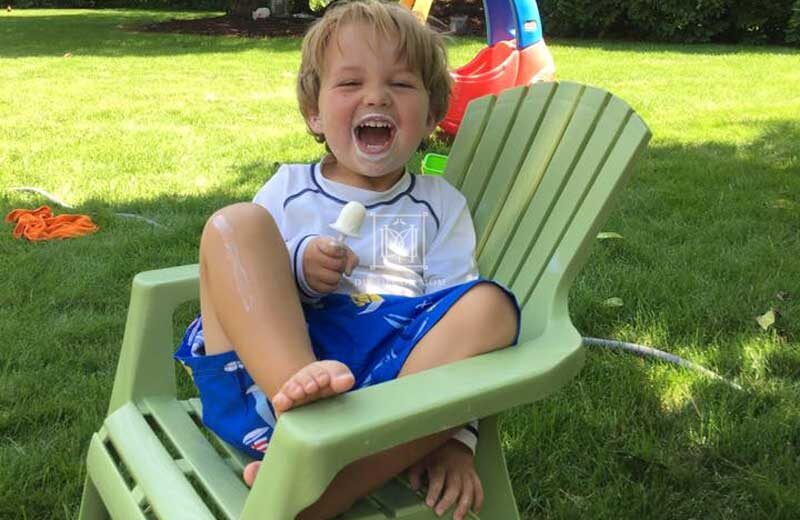 I am a firm believer in letting my kids have lots of free time in the summer. Although they each have daily swim lessons, we leave the rest of the day for the most part open for free time!
*This post contains affiliate links at no cost to you. See my disclosure policy here.
But going from a daily school schedule to a lax summer schedule isn't easy for little ones–my guys seem to thrive on routine. So we created our own little summer schedule which is closely related to our school year kids daily routines. With a 6-year old (learning to read), a 4-year-old (pre-reader), and an almost 2-year-old (non-reader), we chose to use a pictorial system to convey the different activities and chores.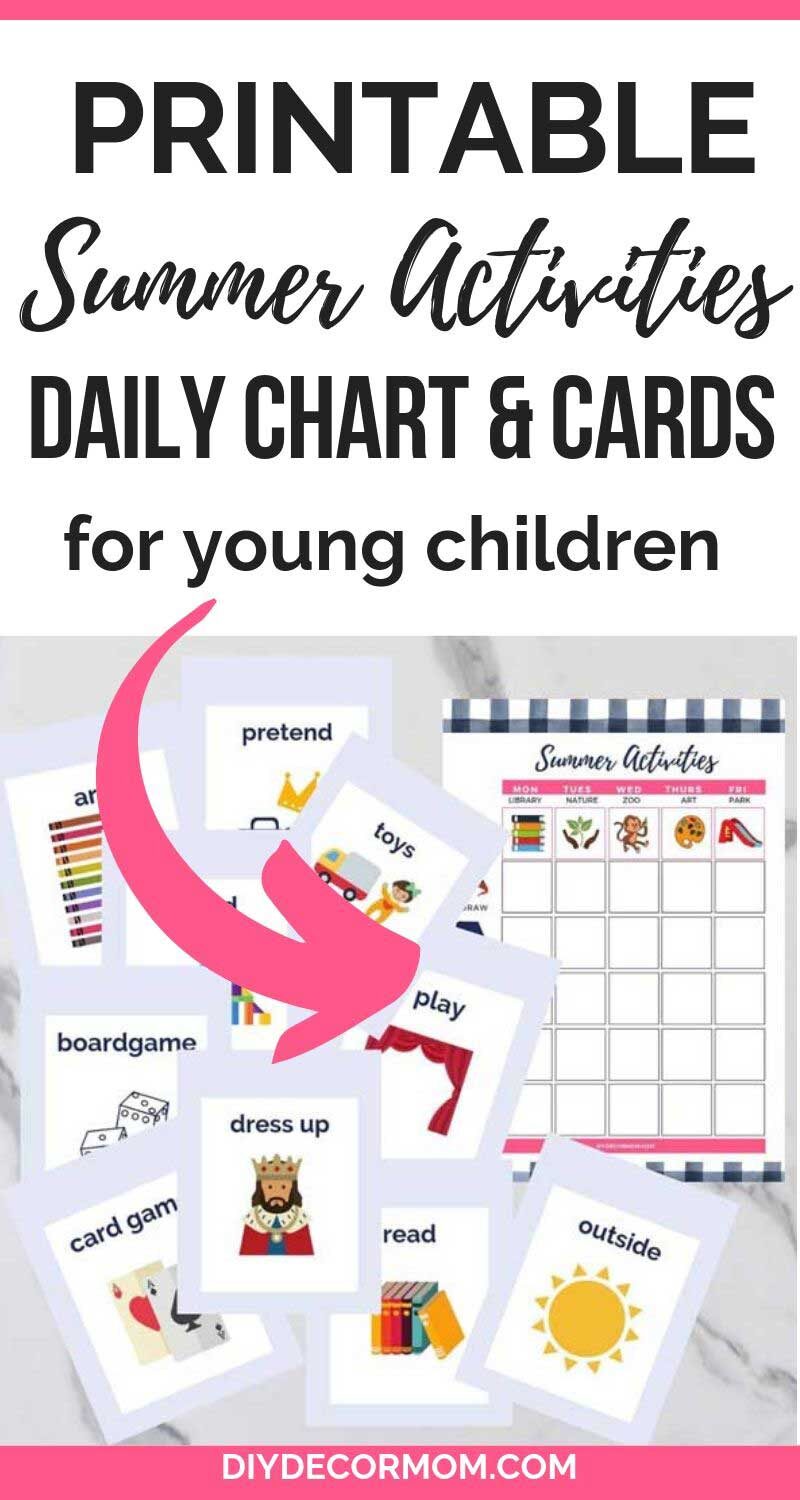 Daily Routine Tasks for Young Kids
Some things don't change about summer–my kids still have the following tasks to do each day (see more about our daily routine for kids here.)
Make bed (even if it's just pulling up their covers it makes it look a lot better!) I am not fussy about this–whatever effort they make is good for me!
Brush teeth: the kids brush their teeth alone in the morning, and with either me or my husband at night
Get dressed: you guys, my kids look like crazy people dressed them half the time. And that's ok! I don't fight what outfits they choose as long as they are weather appropriate. It's not worth a fight! On special occasions, I will insist on what they wear; but other than that…they are free to choose!
Eat breakfast: this was a big one during the school year. My oldest daughter is never hungry at 7:30 AM but she had to put something in her stomach so she could wait until lunch.
Backpack (and lunchbox): My two oldest will both go five days a week and eat lunch there, which means I need to pack lunches each morning. I want them to take responsibility for remembering their backpack and lunch each day (although, I will remind them if necessary.)
Shoes: we still use velcro shoes during the school year and easy to put on Natives or Crocs during the summer. The kids learn how to get themselves dressed at school as part of their Montessori education, and it definitely helps at home! PLUS, keeping the kids' shoes in their shoe cubbies in our small entryway mudroom has been a game-changer!
Brush hair: This is obviously just for my eldest daughter, but she is also responsible for bringing down a rubber hairband (and/or bow or headband) to keep her hair out of her eyes.
Sunscreen: This is one that we added for summer. Every morning regardless of whether or not they are going outside, we put on sunscreen. That way, when they spontaneously want to go out at 10:00, they are ready and I don't need to put the brakes on!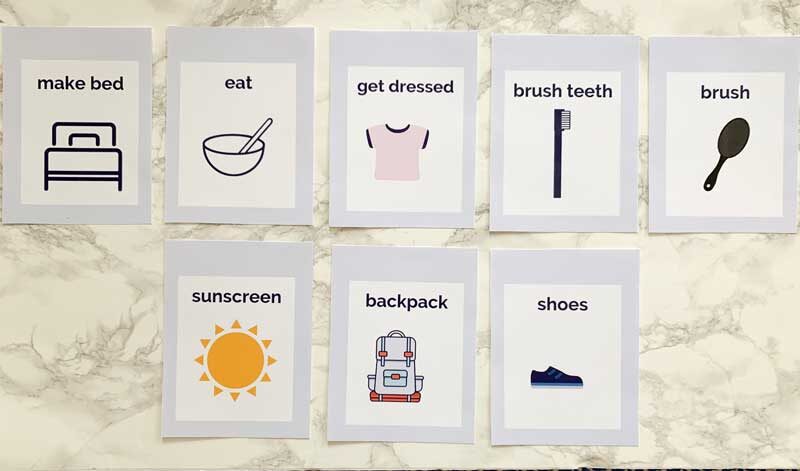 (PRINT OUT THE DAILY ROUTINE AND CHORE CHARTS FOR KIDS HERE)
Daily Routine Chores for Pre-Readers
Like I said above, my kids are really quite young, so we limit their chores to something they can feasibly do on their own. My two oldest children do these, not my 23-month-old (but she helps in other ways) like putting the clean kids' dishes away when I unload the dishwasher!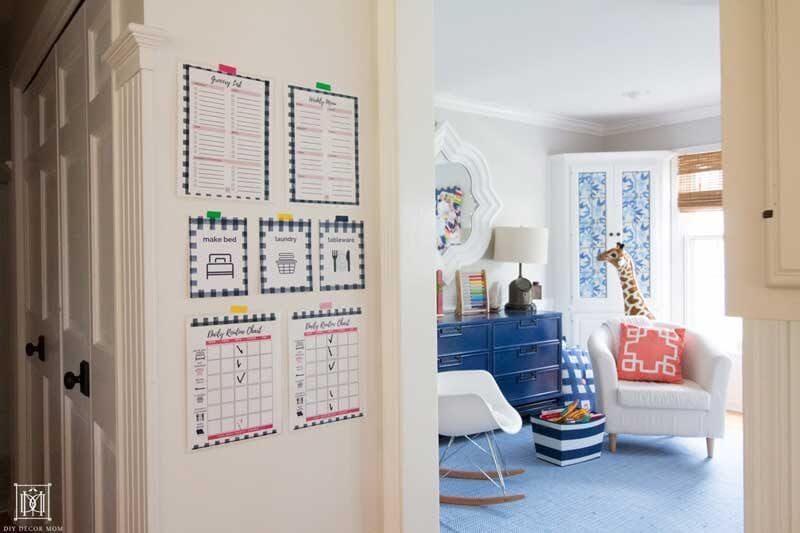 We keep our daily routine and daily chore charts for kids at our family command center (right under our grocery list and weekly menu plan!)
Make bed (same as above–I am not picky!) But pillows should be on the bed, and sheets pulled up to the top. Any extra blankets should also be laid out.
Laundry or clothes away: our babysitter folds our kids' clothes, and I put them away. The kids are responsible for putting their dirty clothes in their hamper. Eventually, they will start helping with gathering hampers and putting them in the laundry; but, I don't want them doing that yet as we have a first-floor laundry. The thing I emphasize is that clean clothes have to be put back in drawers, and dirty clothes have to be put in the hamper. No clothes on the floor.
Clear plates (and set table): This is one we are currently working on. The kids use all plastic dinnerware and stainless steel utensils, so there's not much danger in them clearing their plates or setting the table. Even 18-month-olds can help you set the table, just give them a prompt to get spoons first, then napkins, then cups.

By putting my kids' dinnerware and tableware in an accessible spot, they were able to take over on this responsibility early on!
And my littlest can even help me put away the kids clean dishes when I unload the dishwasher
Grab your printable daily routine cards and chore chart for kids here!
Now, the kids aren't the only ones who have daily chores (I have mine too, which I printed out to show them that I too have a list of things to do!) By doing these daily activities (that I would have done already) I keep my house 95% clean and then just do my daily cleaning tasks.
Kids Daily Summer Activities
In the summer, most things stay the same. But instead of time at school, we tend to spend more time at home and outside. Here are our favorite daily indoor activities for kids to do. Since they were born, my kids have been taught to occupy themselves. And honestly, as we had more kids, it does become easier! The kids largely play with themselves throughout the day with little prompting. They know what toys they have, and that they have free license to play with them whenever.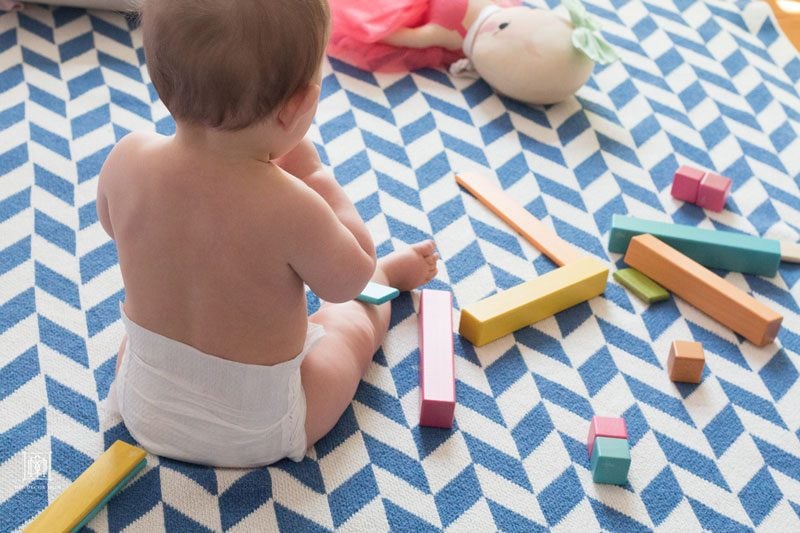 But we do like to have a loose structure or activity for the day to keep it interesting! Here are several daily activities we do with our kids that help give some structure to the day.
When they wake up, they go downstairs and either read with my husband, color at the kitchen table or watch a show. My husband is an early riser, and will often tell the kids they have to "create before they consume" so they have to do something creative before watching a television program. They don't usually have a problem with this and will either cuddle with him on the couch, read a book, or create some art.
Reading time:
My kids have both free reading time and structured reading time. When I put my youngest daughter down for a nap, I will pull out our new library books for the week and give them to the kids. We go to the library once a week to replenish our book stash. I reserve them online, and then just pick them up when we go.
My kids can easily spend 10-20 minutes looking at pictures and/or reading to themselves. Then, we have 30 minutes of reading time together. I'll sit down on the couch with them and grab all our library books (plus any they want to read in addition.)
When my youngest is up, she often will lose interest, so I'll have a toy out on the table for her that she can play with while she listens to the story.
We've been working our way through Everyday Reading's 100 picture books to read this summer and it's been going great–we are already 1/3 of the way through it! After the kids do the 30 minutes of reading each day, they get to put a checkmark on their chore chart.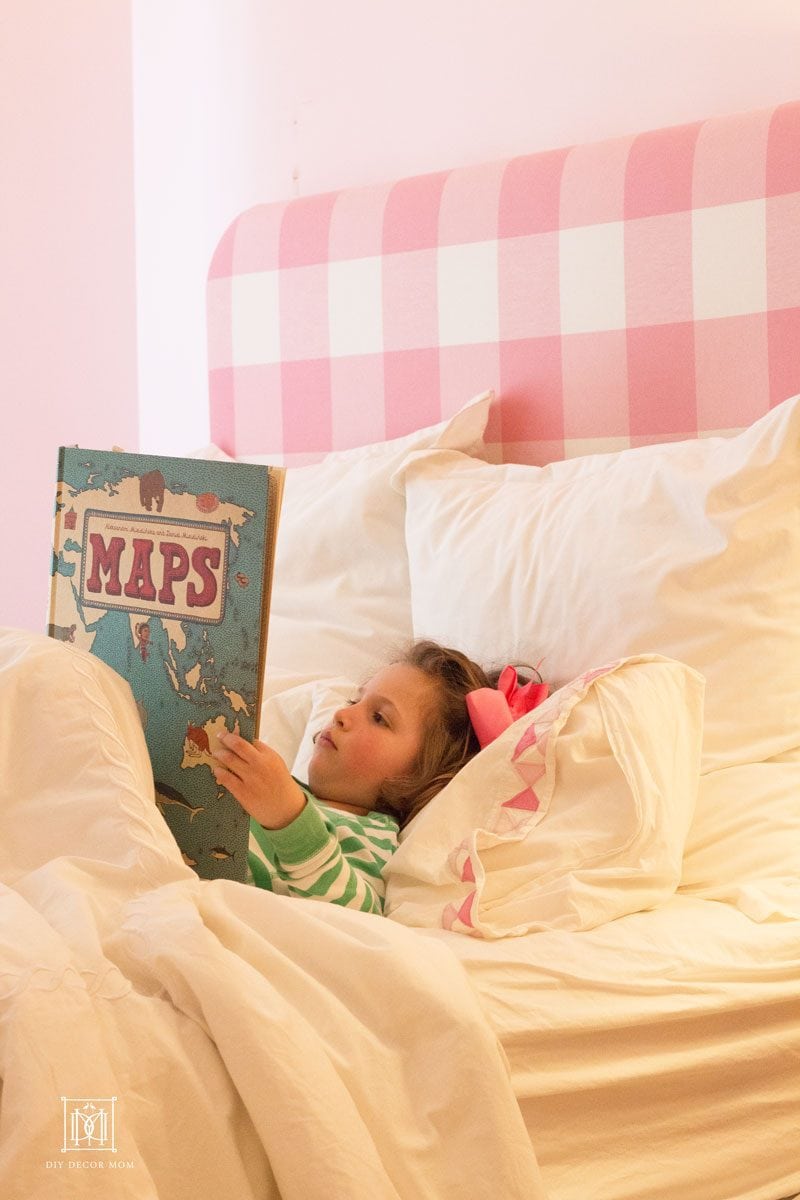 Quiet play: my daughter loves playing with Barbies in her room, and my son loves playing with his dinosaurs (see our favorite dinosaur toys here!) Both kids will have 30-minute increments in which they get to decompress and play with their favorite toys. We often do this after we eat and they have done their physical activity for the day (swimming lessons or scootering). They need some vegging time and this is it–kind of like how younger kids will nap. By alternating between structured and unstructured playtime, my kids have a good balance throughout the day.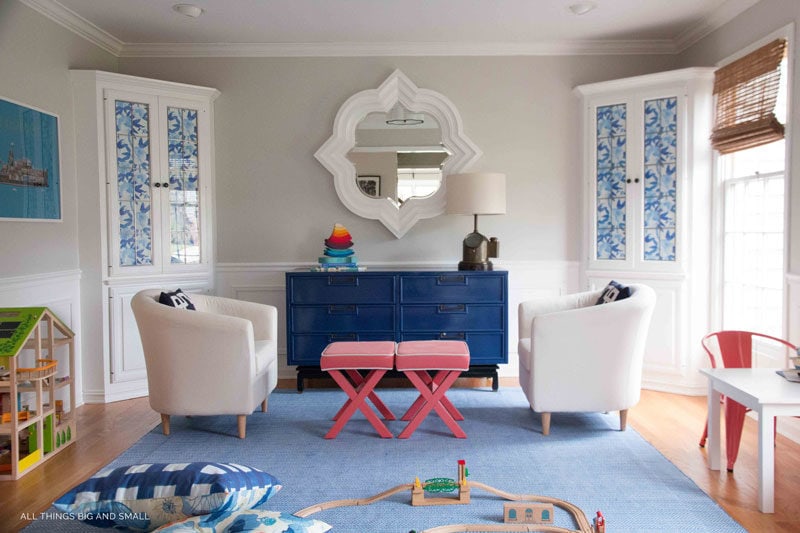 Drawing time: Our kitchen table is messy 99% of the time with some kind of dinosaur play or art project–and that is fine with me! The kids eat most of their meals at the kitchen counter, so I only insist that they put their stuff away when they are done. The art projects will often take the course of a day to make, so it's fine to leave it out. See my favorite art supplies for preschoolers and how we store them in our art cart here!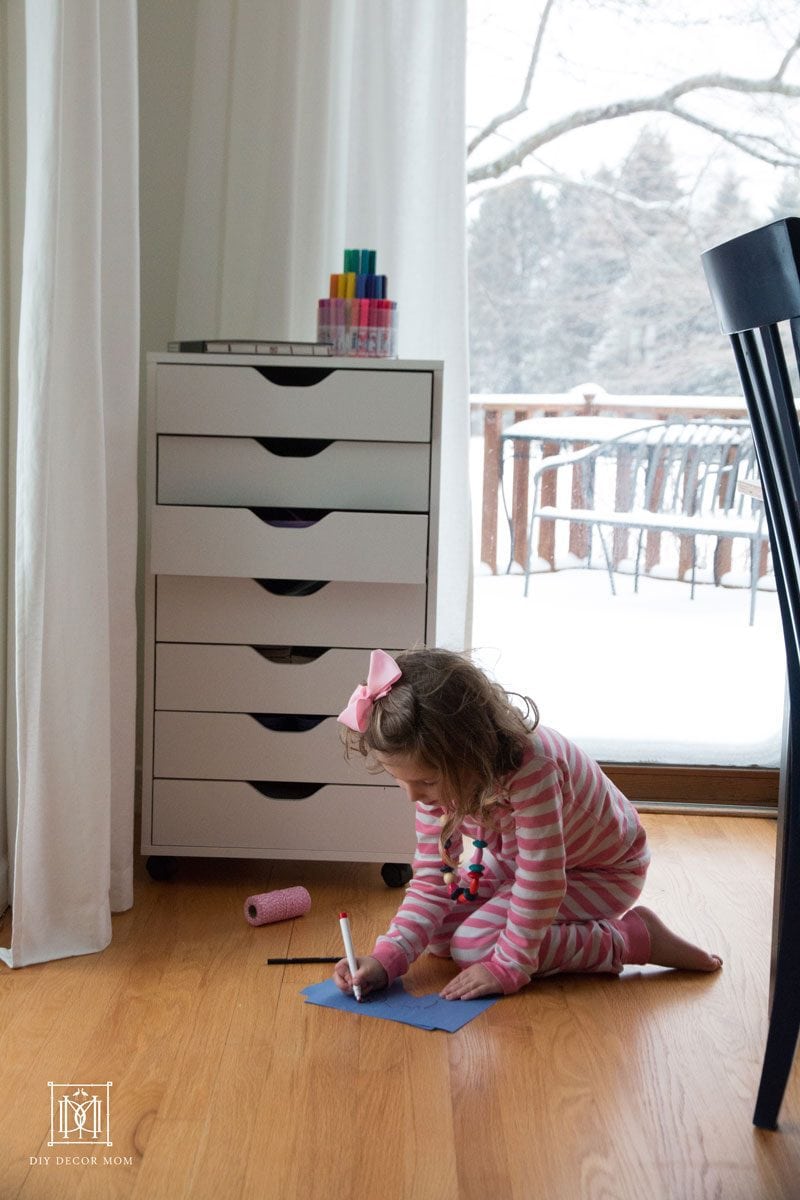 Outside activities: we are lucky to live in a fantastic neighborhood where there are lots of kids on our block. Whether it's sunny or cloudy, my kids need their outdoor time! We regularly ride bikes (when I'm not pregnant), ride scooters (these are our absolute favorites–my eldest, age 6 rides this scooter, and my two younger kids ride these), draw with chalk, or explore a nature walk in our backyard. I insist that each of them always wears their helmet whether they are biking or scootering–these are our favorite (and we've tried them all!) It gives the best protection and is highly adjustable.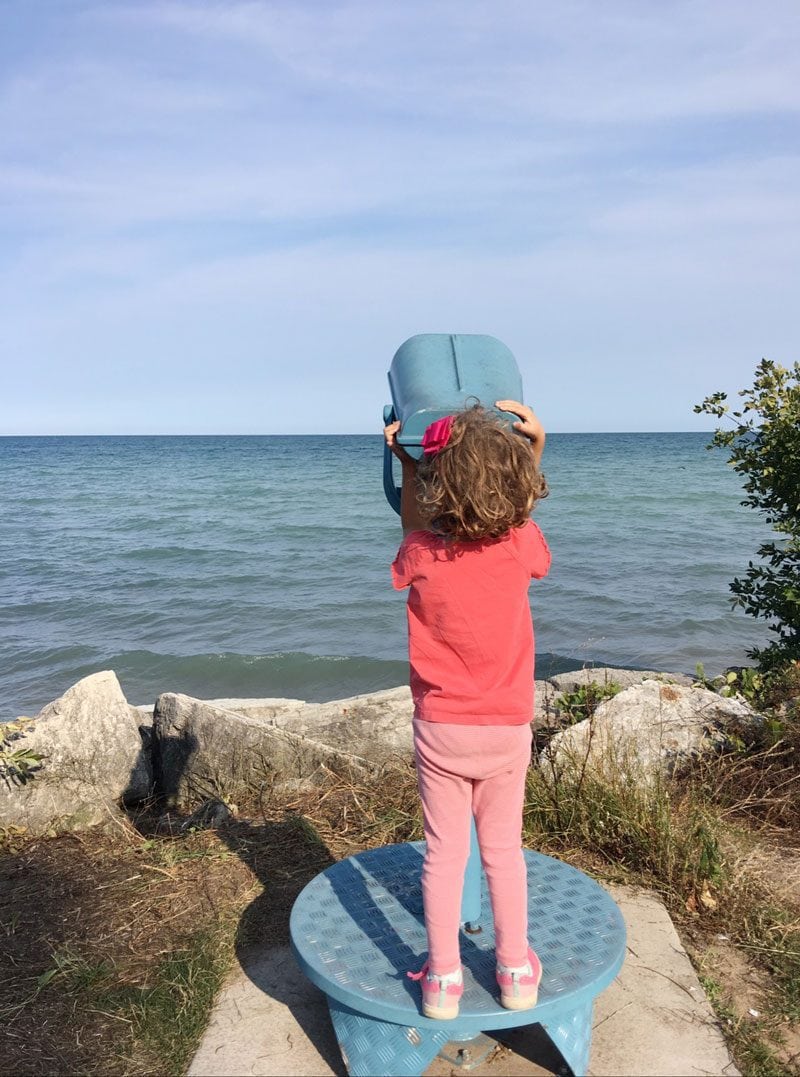 During the summer, the kids also go swimming every day at our local pool or at swim lessons at our YMCA, so they get plenty of exercise.
To help the kids remember all the fun indoor (and non-electronic activities) they can do each day, I created these indoor activity cards. We have one copy of the indoor activity cards and two copies of the chart. Whenever the kids say they're bored, we go over to the command center and select an activity for them to do–either by pointing out the activities on the chart or showing them the activity cards. When they are done, they get to cross off an activity.
THEMED SUMMER DAILY ACTIVITIES FOR KIDS
On our summer activities chart, each weekday has a theme. This gives us some structure to our week and breaks up any monotony. Although we do go to the pool every day and play outside, peppering in these other activities helps give the kids a well-rounded schedule. Since my kids are pre-readers (and early-readers), having the symbols helps them with learning to read.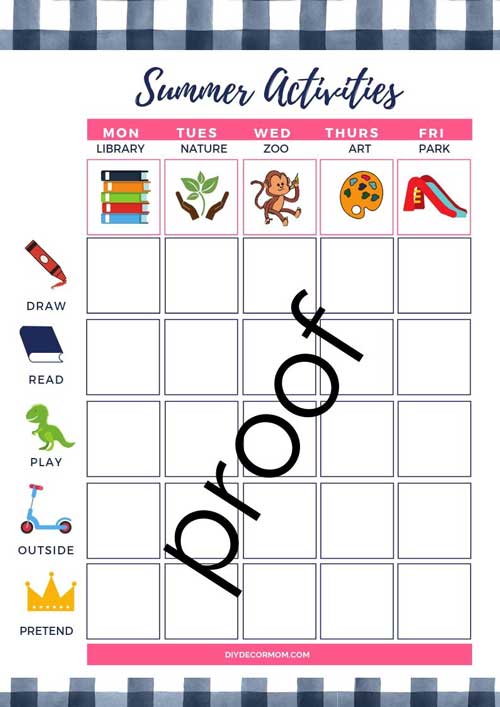 Here's our loose weekly summer schedule:
Monday: Library day–we will go to the library as a family and I will pick up the books I reserved online. The kids get to play in the kids' section and pick out any of their own choice books. This usually takes about 1.5 hours.
Tuesday: Nature day: take a walk in our neighborhood, to the lighthouse, or around the pond.
Wednesday: Zoo day–we are fortunate to live 10 minutes away from a fantastic zoo, so we go there weekly. The kids love seeing the animals, and we often will watch a nature program that night after dinner so they know lots of facts about the animals! We use our zoo pass so much–it's why I recommend giving a membership in my gifts for kids who have everything (21 unique ideas)!
Thursday: Arts & Crafts Day–we'll play with "special" art supplies–whether it's watercolors, magic sand, finger paints, or plain old play dough, this is the day we do it. (This can be switched with other days too if the weather isn't cooperating!) Busy toddler is a fantastic resource for activities for kids to keep them busy and usually, the materials aren't that complicated or expensive!
Friday: Special park day–my kids will get to go to a different park that we don't usually get to go to.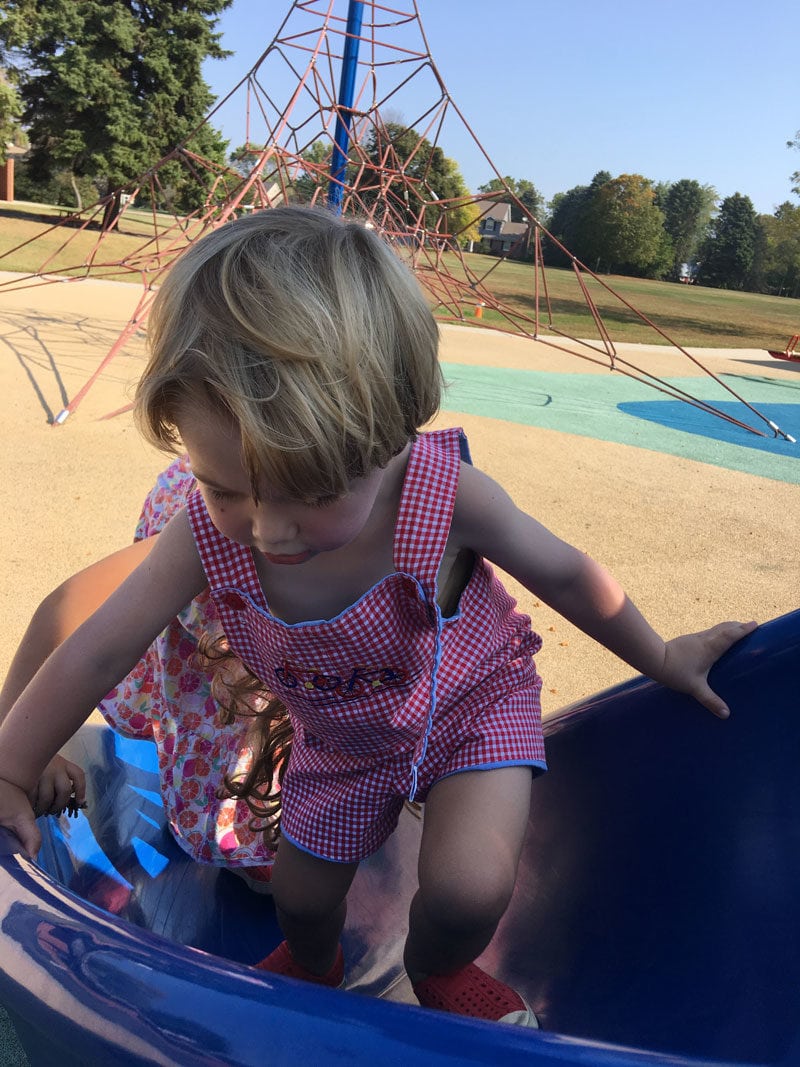 We will generally do these activities either in the afternoon if they've been swimming all morning or in the morning if they don't have activities that day. Between the loose schedule of daily activities, and their daily chores, my kids are busy enough and not burned out (and I am sane!) Tell me, what's your favorite activity to do with the kids during the summer?
Although the transition from the structured school year to an unstructured summer can be a little rough, having the same daily routines and printable cards has helped my kids take ownership over their day, introduced the concept of money (with the chore charts), and has taken tasks off of my to-do list, and resulted in less nagging!
See more about our daily routines here!