Natural Remedies for Morning Sickness: 21 Ways To Treat Morning Sickness that you haven't heard before and that actually work. If you are struggling with nausea and morning sickness in your first trimester of pregnancy, then you need to read this list of cures!
NATURAL REMEDIES FOR MORNING SICKNESS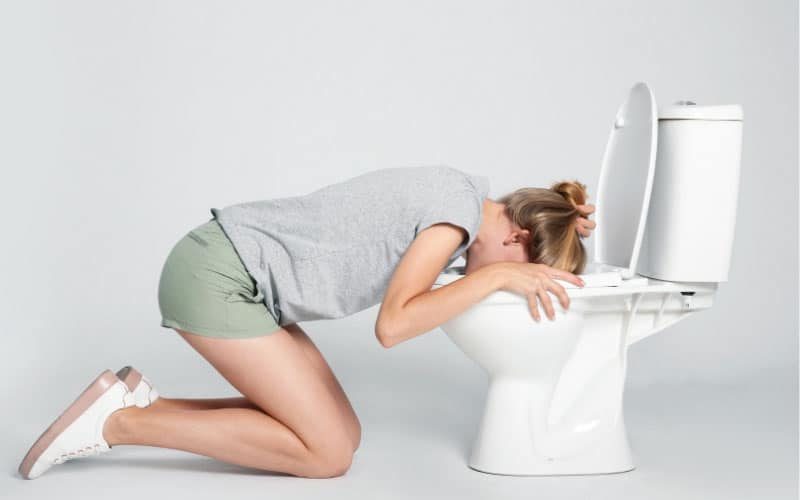 I didn't get morning sickness with all four pregnancies. I got ALL DAY sickness. In the first trimester, I've typically lost 5-10 pounds in the first trimester from nonstop nausea and vomiting. It was so incredibly hard, especially trying to parent three kids on top of it. I didn't want to eat anything, threw up anything that I did, and felt sick all the time. On top of the exhaustion, the nausea was debilitating. I couldn't grocery shop because smelling any type of meat made me throw up, and I could hardly cook dinner! My poor kids and husband practically ate PB&Js nonstop.
Luckily, after four pregnancies, I've tried every single natural remedy to treat morning sickness and am sharing it all here. I asked all my friends and have shared their suggestions below.
Now, what worked for me might not work for you.
It's best to consult your doctor, but these things helped me "treat" morning sickness so I could get through the day. They aren't a panacea but they helped.
Also, they are the only things that I would do that fit with my all natural lifestyle. You see, I am a fan of giving natural birth, exclusive breastfeeding, and baby led weaning. If I thought any of these things could possibly hurt my baby I wouldn't try it. So all these pass my test–do your research and ask yourself what you are comfortable with and make your decision from there.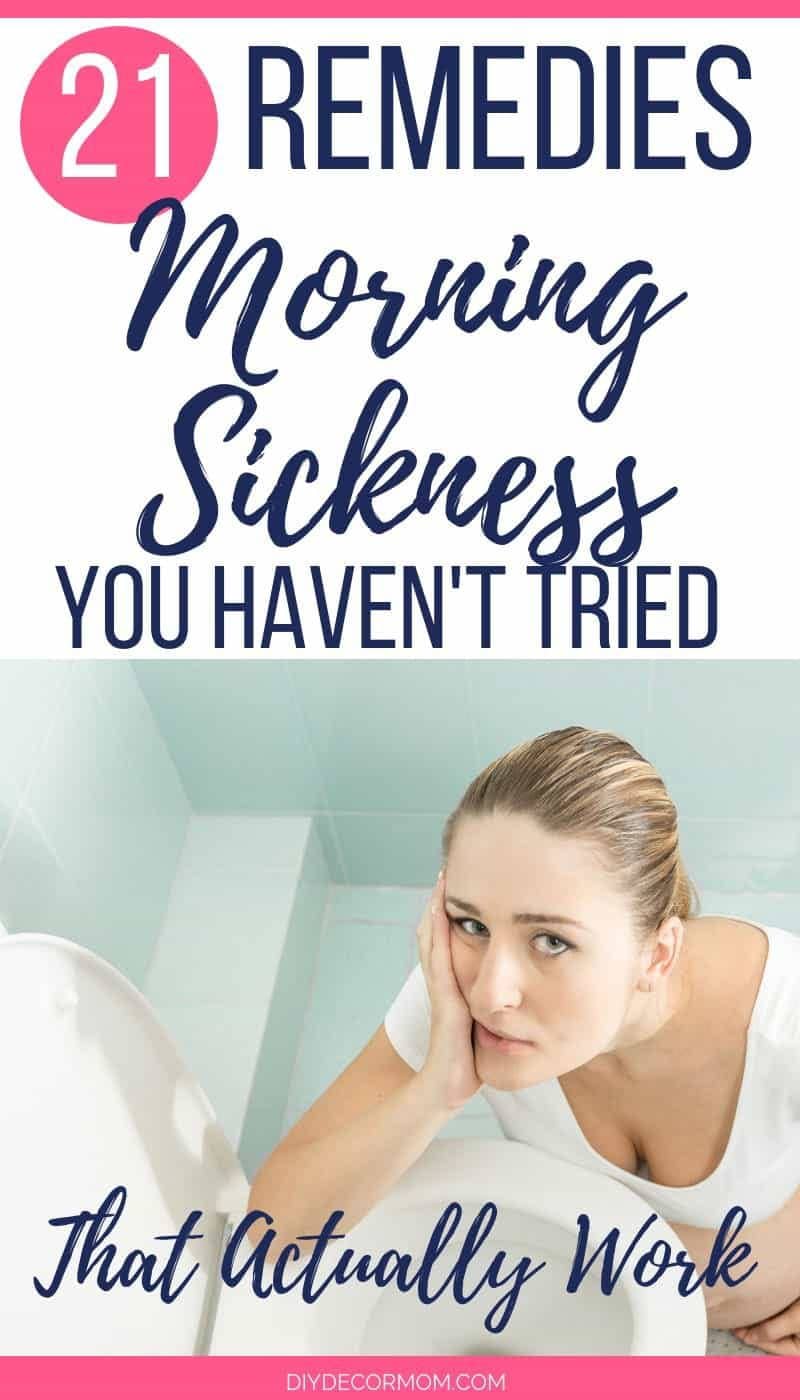 HOME REMEDIES FOR MORNING SICKNESS
*affiliate links have been used at no additional cost to you see my complete disclosure policy here.
Ginger: The ancient herbal treatment for helping ease morning sickness is one of the oldest ways to cure morning sickness (or all day sickness.) Snacking on some ginger-snaps helped me as did sipping ginger ale. Other people prefer to stick with ginger drops or ginger candy.
Lots of Little Meals: I found that keeping a steady supply of light bites I could manage my morning sickness symptoms alright when I thought I was going to lose my stomach. Previously, I had been doing intermittent fasting, and I quickly learned that not eating before noon was NOT an option! Whether it's Saltines, goldfish, or pretzels having something slightly salty and ready to eat in my purse helped a lot! Try to eat within the first 10 minutes of getting up.
Peppermint Essential Oil: when I first asked my friends what to do to stave off nausea they all said peppermint and lemon! Peppermint has been known to also help headaches (and I have the worst pregnancy headaches!) I am a Young Living distributor, so I used my YL essential oils I already had on hand. Adding a few drops to my diffuser helped immensely; but, I also created a little Peppermint oil roller which I rubbed on my temples to help (4 drops Peppermint Oil and 10 ml jojoba oil into a roller). If you're interested in ordering oils, please contact me. My member number is 3600425 which you can enter when you order your starter kit (the best value by far!)

We have two Desert Mist diffusers and one Dewdrop which have lasted us two years and we love them! More to come on how we use oils in our house 🙂 [show_shopthepost_widget id="3471007″]

Minty Fresh: Having fresh mints in my purse helped me stave off any waves of nausea. Eating these in between meals helped keep the nausea at bay.
Eating Protein at Every Meal: My good friend and doula, Making Mrs. M recommended eating small protein meals throughout the day to treat nausea. While protein is the last thing I want when I was queasy, I did notice I felt better when I ate a protein bar, a few eggs, or trail mix.
Lollipops: These were my guilty pleasure. And no, they aren't natural by any means but I craved them and they helped me cope with the morning sickness! No shame here!
Popcorn or other light foods: When I am sick, I don't want to eat anything! In fact, all I want to do is curl up in a ball and sleep! I like popping our own organic popcorn in this air popper. It's way healthier than microwave popcorn and tastes a million times better! [show_shopthepost_widget id="3471010″]
Toast: Good cinnamon toast was a major
Smoothies: I couldn't stand the thought of smoothies but some people swear by them!
Fresh air: now this is easier said than done when it's in the middle of the winter; but, gathering the energy necessary and just walking for ten minutes helped me feel a little better. Also, just stepping outside to get fresh air from time to time, was the easiest solution I found (so I didn't have to pack up three kids.)
Acupressure: When I taught sailing (before having kids), a lot of the kids I taught struggled with sea sickness. Morning sickness if a similar sensation. These acupressure bands have helped lots of people, and you can wear them to see if they help with morning sickness! They now sell really expensive ones–almost $100 but I think the old version probably works just as well!
B6: Taking a B6 10-25mg every 8 hours as needed helped ease up the nausea. My doctor recommended this to me and suggested taking the following, Unisom at night (which may cause sleepiness) to help.
Unisom: This made me really drowsy, so I only took it at night and if I really needed it. You can experiment with what dosage is right for you (consult your doctor.)
Tea: Admittedly, I am not a big tea drinker. I like my chai tea and that's about it; but, my friends who have struggled with morning sickness said that drinking this tea (formulated for pregnant moms) helped a lot! [show_shopthepost_widget id="3471019″]
Diffusing or sniffing essential oils: For me, scent is a huge trigger for nausea. Having a peaceful and lovely aroma in my house helps me relax, and helps treat the morning sickness. These are my favorite blends for diffusing during the first trimester: Lavender, lemon, Roman Chamomile, peppermint, ginger. You can Sniff them directly from the bottle, or diffuse them.
Warm wet washcloth: Go back to the basics, and remember what your mom did when you were sick: warm washcloths, baths, toast, and rest.
Hot shower or bath: Hot showers are amazing for both headaches, body aches, and nausea. Almost nightly, after dinner, my husband would watch the kids, and I would go take a 30-minute bath. Creating a relaxing routine helped me to feel better!
Rest: The worse I slept the night before, the worse the morning sickness was the next day. By going to bed right after the kids and sleeping whenever I could (yes, I would occasionally nap when they napped), helped the non-stop nausea.
Foods to Avoid: My doctor gave me these guidelines to reduce nausea.

Avoid drinking lots of caffeinated drinks. If you are a big coffee drinker, you may find that the caffeine is bothering you more than expected. Try to eat a snack before you drink your coffee in the morning, and try tea instead of coffee.
Avoid high-fat foods such as:

Regular salad dressing
Fried or greasy foods
Mayonnaise
Gravey
Heavy cream Sauce
Whole milk products (personally this wasn't an issue)

Avoid Liquids at Meal Times: You need to keep hydrated but drinking lots of water with your food is going to make you feel bloated and gross.

Drink fluids either 30 minutes before or 1 hour after a meal. Sip on drinks between meals to prevent dehydration.

Gummie Prenatal Vitamins: Although I've taken daily pills for years, when I am in my first trimester all bets are off! I like taking these gummie prenatal vitamins the best of all! They taste delicious and are made of the best ingredients!
The biggest takeaway for me with dealing with morning sickness is to do what works for you. Eat what makes you feel good, and when it makes you feel good. Get plenty of rest, and take supplements if they help you. If your morning sickness is really severe, you should consult your doctor and perhaps obtain a prescription for anti-nausea medication like Diclegis. I don't have personal experience with this, but lots of women do. I felt very lucky that these natural remedies for morning sickness worked for me, but every woman is individual.
I am not a doctor, and when taking anything as a pregnant woman, you should consult your doctor first.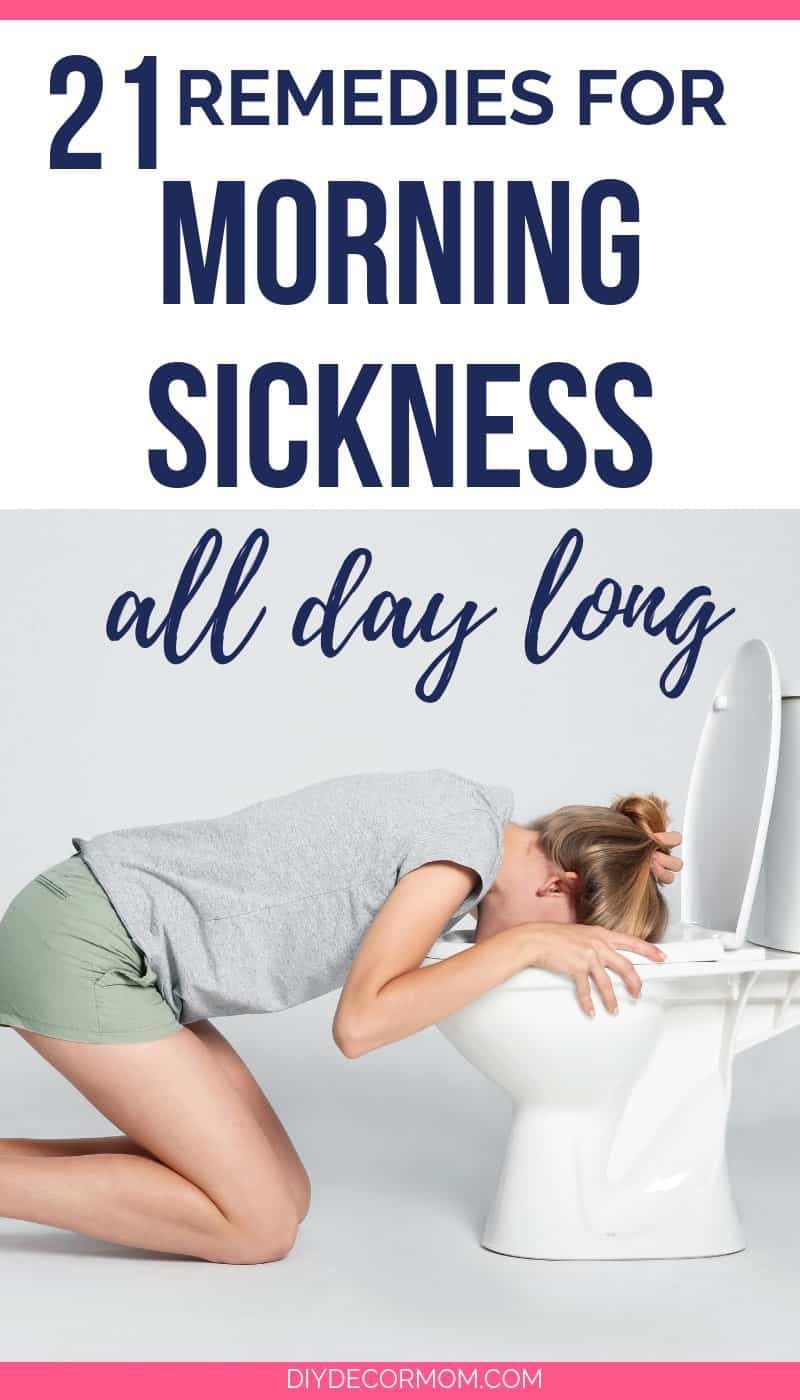 Don't miss these pregnancy posts:
Baby Registry Must-Haves: Surprisingly Useful Must-Haves and What To Skip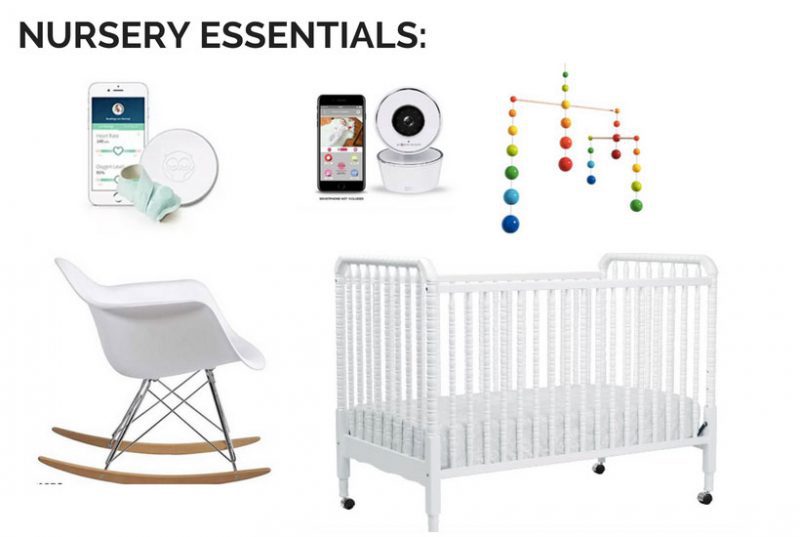 Newborn Must Haves: 19 Baby Essentials You Are Forgetting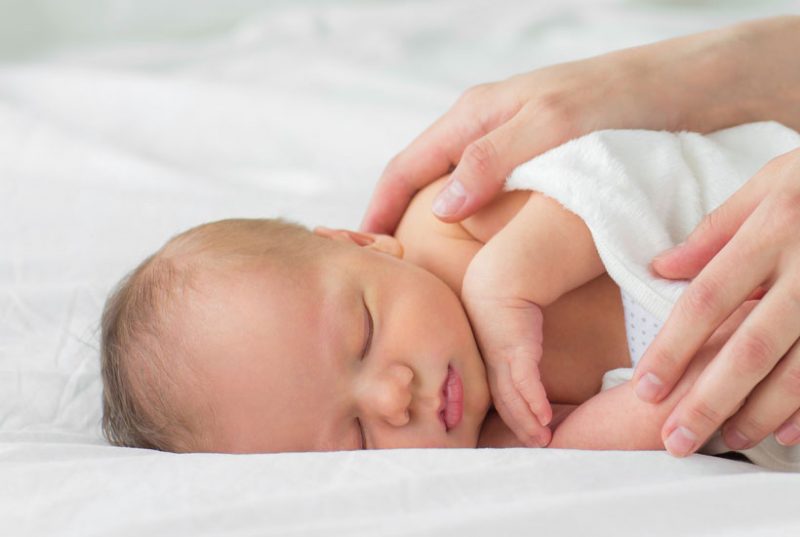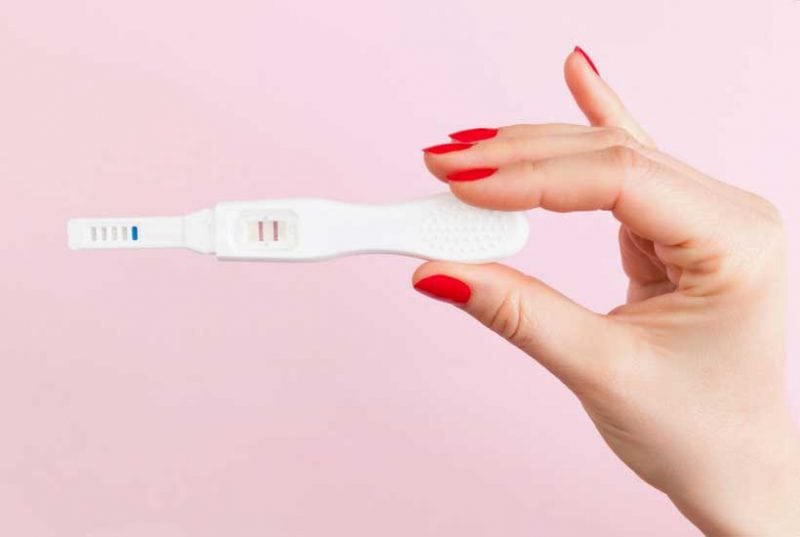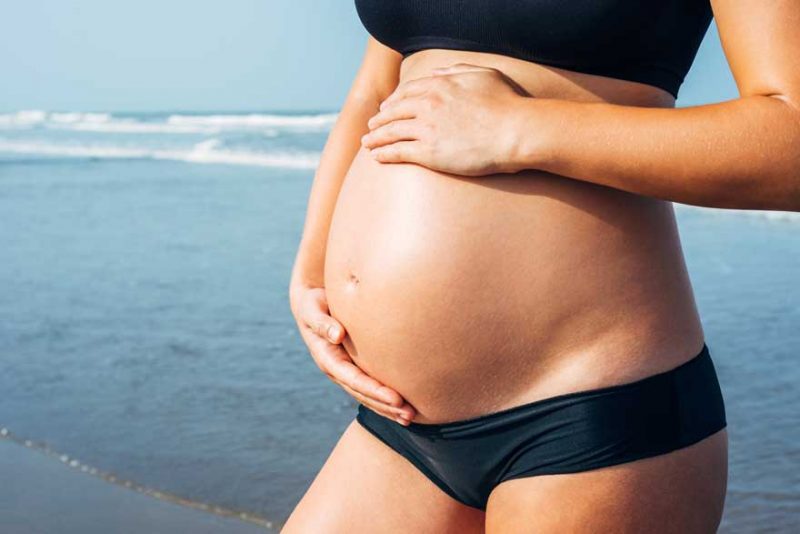 Things To Do Before You Give Birth: Don't Forget To Do These Things in Your Third Trimester