Peloton Bike Alternatives: As a busy mom of four, taking an hour out of my day to exercise (plus driving 20 minutes to the gym and back) was too hard. As lovely as running outside is, it isn't doable with four kiddos! When I started hearing about Peloton (about four years ago,) I instantly wanted one. But the price tag made me sick! So I looked for a way I could get a "Peloton workout on the cheap!" And I was able to! Doing 30 minute spinning workouts from home allowed me to drop the pesky postpartum weight fast!
What's even better is that I don't have to leave my house! So I pop in a TV show for the kids, and can easily burn 400 calories in 30 minutes–my kind of quick workout! It's low impact so it's great for exercising when you are pregnant (and when you aren't!)
Here are the top choices (including what I used) for a budget-friendly Peloton!
PELOTON BIKE ALTERNATIVES
First, What is a Peloton bike?
If you didn't know already, A Peloton is a high-end indoor bicycle that comes with a Wi-Fi-enabled and 22-inch touchscreen tablet. The tablet streams live classes for you. The device allows you to compete with other participants. As a result, you get beneficial cardio workouts that help you achieve your work out goals. This is what makes it so amazing–and expensive!
The good news is that you can use any old spinning bike and just stream a Peloton workout through their app which is under $15 a month getting the best of both worlds.
*This post contains affiliate links at no additional cost to you. See my disclosure policy here.
How to Choose the Best Spinning Bike
The best spinning bike should come with all the features that meet your work out needs. Before you embark on your shopping, it is wise to undertake thorough research first.
Determine the types of products out there and their specifications. It is also prudent that you read reviews from other users. Such studies will help you get a better perspective of the product you intend to buy.
When you have all the information you need, you will make better and informed decisions when you are purchasing a particular brand of interest.
What are the benefits of spinning?
• Burning of calories- it enables you to meet your health fitness and lifestyle goals within a short time
• Improves your cardio- if you want a healthy heart, then peloton bike is all you need. Spinning is an anaerobic exercise that is beneficial to your heart.
• The setting of your own pace- you can conveniently set your workout pace with this device. You can set the speed up or low depending on the experience you want to have.
• It allows you to join the spinning community- you will unite with a group of other ardent spinners if you choose this product. You can also compete with them. There is always a good feeling that comes with becoming part of a team.
• It helps you to build lean muscle definition and loss of unwanted weight fast. The result is a pleasantly slim and fit body.
What's unique about a Peloton bike?
Their combination of live-streamed and on-demand (replay) workouts and metrics help push you to the next level. Since the bike has all the metrics, you can compare yourself live to other spinners and see how you stack up. You can also try to continually beat your own personal record or PR.
Their cadence (how fast you are going), and resistance knob work together to make a challenging workout. The combination of these two factors creates "output" which is the number you can compare yourself to others and measure your past workouts.
Things to look for when choosing the best spin bike
Flywheel weight
Typically, a flywheel is an elevated wheel located in the front of the spin bike. It is the wheel that moves when you pedal the bike. Before you make any purchase, ensure the flywheel is functioning well. You should also determine the weight of the flywheel as it influences the motion of the bike. Go for a more significant weight to get a smoother move.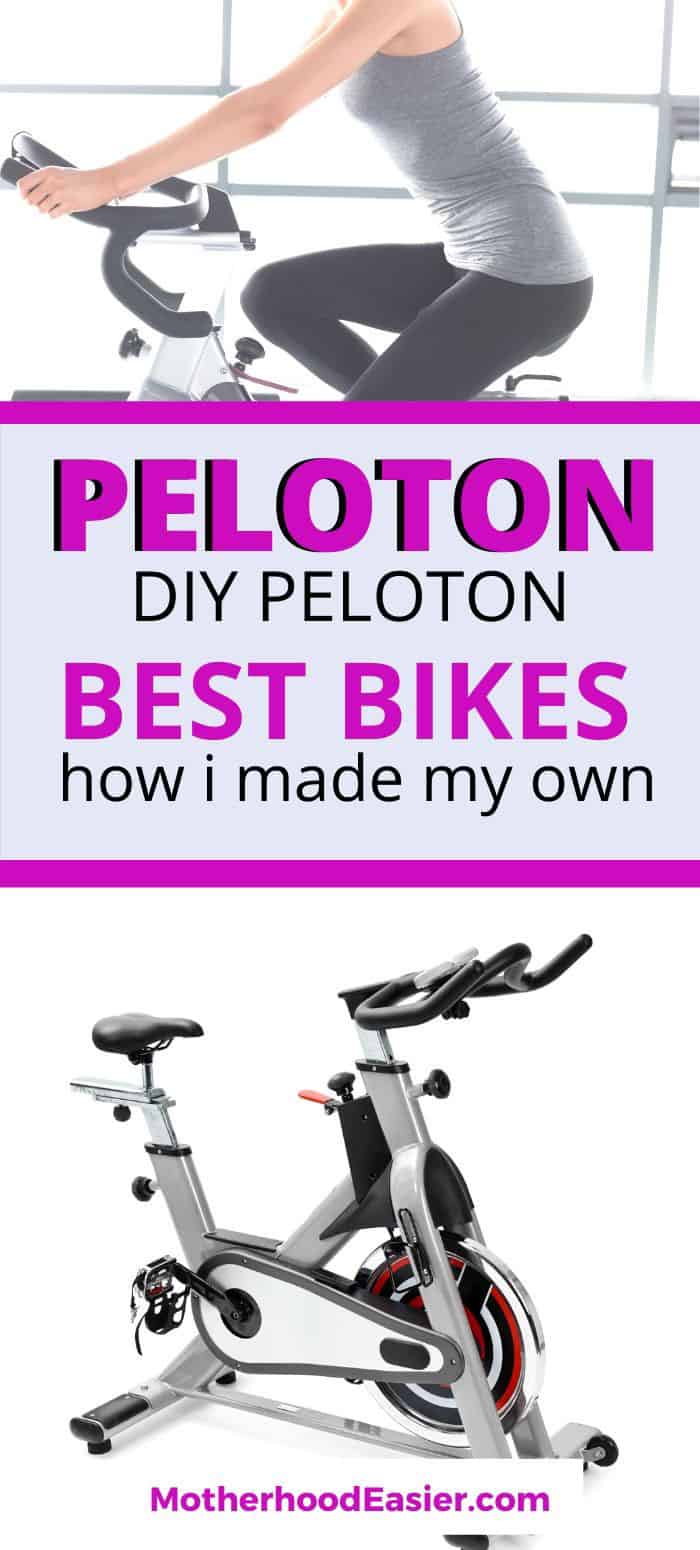 Display screen
Typically, a Peloton bike features a display screen. If you want a DIY Peloton, you can use a tablet or iPad to stream classes to your bike. The tablet streams live classes for you.
A suitable screen should indicate your speed and the total distance covered. Additionally, it should provide you with detailed and essential information regarding your workouts using the display screen. With a DIY Peloton, you are going to have a couple of different tools that replace your display screen–notably your cadence monitor and your iPad. You can also use an Apple Watch or other heart rate monitors to track your estimated calories burned and your heart rate.
Bottle holder
Spin cycling is strenuous and results in a lot of perspirations. It is essential, therefore, to be hydrated throughout your exercise regimen. You should ensure that the particular bike you are interested in comes with a bottle holder. Some bikes feature two bottle holders.
A suitable bike should also feature a bottle holder that is located conveniently. Avoid brands that establish the holder in hard-to-reach places, making it hard for you to keep hydrated.
Frame and legs
You need to go for a bike that comes with a sturdy stabilizing frame and wide legs. Such a bike offers a better balance with rigorous usage. You should also go for a bike with wide legs as it provides better stability.
BEST SPIN BIKE REVIEWS
The Sunny Belt Drive Bike is a fantastic bike that comes with useful design and excellent functionality features. In case you are looking to push yourself to become stronger and lose weight faster, then this is the device for you. The bike supports multi hands grip and high interval training, making it a top choice for most work out lovers.
It also comes with a magnetic resistance that crates an exceptionally smooth and silent ride that will help you achieve a better cardio routine. Besides, it comes with a heavy-duty steel frame that supports up to 300 lb max weight. The heavy-duty frame makes the bike one of the most secure bikes for a range of weights.
Additionally, you will love the incredible 44 lb flywheel that promotes improved physical fitness training. It also comes with four adjustable seats and handlebars to allow for easy customization. You can place your device on the device holder to follow your favorite workout videos during your training.
Pros
• Comes with heavy-duty flywheel
• Fully customizable
• Safe and convenient
• Features a tablet holder
• Comes with magnetic resistance
• Compact design with a durable magnetic frame.
• Supports up to 300 lb. max weight
• Equipped with four-way adjustable seat and handlebar
• Micro-adjustable belt
Cons
• No after-sales service
• Some users reported a clicking sound on the right pedal when the resistance is turned up.
The bike, which is dynamic and accommodating, will enable you to ride anywhere using your workout program. Additionally, it is a reliable bike that comes with a heavy-duty steel frame and 35 lbs Flywheel.
It also features a useful LCD screen that monitors and tracks your time, speed, calories burned, and odometer during cycling. What is more, the bike is a one fit family device thanks to the adjustable and durable non-slip handlebar that meets all sizes.
The bike also features a simple installation process. It comes with all the needed tools and screws to enable a fast installation. For proper installation, check the manual. You will also enjoy the 24 hours of after-sale service if you choose this product.
Pros
• 35lbs bidirectional flywheel weight
• Monitor display counter-resistance/ tension and bottle holder
• Aluminum allow pedals and adjustable covers
• Feature transportation wheels
• Comes with an anti-skidding durable handlebar
• Allows for horizontal adjustments at the four-foot support making it ideal for uneven floors
• Comfortable oversize saddle with a big cushion that gives you healthy riding exercise
Cons
• Cannot support weights more than 275 pounds
• Doesn't come with after-sales service
• Some users reported a loud clicking sound from the flywheel
If you are in the market for a smooth and quiet indoor bike to make cycling more convenient and practical, then choose this device. It comes with a unique belt drive system that guarantees a noiseless operation–which is always handy if you have little ones sleeping or close neighbors in an apartment!
Additionally, the bike features a fully adjustable seat and handlebar for easy customization. Besides, the device comes with several features that offer top-notch comfort and comfortability. For example, the transportation wheels that come with the bike makes it easy to move around your space. This fantastic device that supports weight up to 280 lbs comes with a sturdy flywheel of 22lbs.
You will also find the cage pedals very significant for safety and comfort. The aluminum paddle and adjustable cage will prevent your feet from slipping and provide more support during cycling. Safety is also enhanced by the high-quality woolen brake pad that comes with this device. Besides, the brake pad is consumable, and when it wears out, you can get in touch with the manufacturer for free replacements.
Pros
• Comes with aluminum water bottle holder
• Features an adjustable seat and handlebar
• Adjustable parts that allow for multiple family members to sue
• LCD monitor that tracks speed/time/distance/calories/pulse
• Adjustable resistance
• Adjustable oversized saddle and non-slip handlebars
Cons
• Doesn't come with a device holder
• Some users reported the flywheel on the D600 making a loud knocking sound whenever the wheel makes a rotation.
The Marcy Club Revolution bike promises excellent cardio work out results within no time. It is an exceptional work out device that enables you to experience out of this world workout experiences.
Additionally, this fantastic work out device comes with ergonomic seating. Enjoy a comfortable seat and ease of use courtesy of the ergonomic design. You will particularly love the road-bike saddle that comes with adjustable foam padded handlebars. The bars adjust vertically for easy customization. Depending on your seating preferences, you can easily adjust the seat vertically or horizontally.
Moreover, this product's durability is guaranteed thanks to the durable steel construction that ensures that you get value for your money. Besides, the frame, which is rust and corrosion resistant, has strong welding points and powder-coated finish.
Marcy Club Revolution bike is safe for use as it comes with a quick-stop functionality that allows you to stop the wheel's motion conveniently and quickly. In case you are looking for a bike that provides the same workout experience as a road bike, then choose this bike. You will immediately enjoy the convenience that comes with exercising in the comfort of your home.
Pros
• Water bottle holder
• Quick stop
• Safe for use
• Durable steel construction
• Ergonomic seating
• Excellent cardio work out
Cons
• No after-sales service
• A user reported horribly loud whistling sounds with increased tension
• The bike is not equipped with SPD clips at the moment
This exercise bike promises a smooth a quite work out experience owing to the useful belt drive functionality that comes with it. It also comes with multi-grip handlebars that help you achieve a memorable cycling experience. Additionally, it features a tablet holder that you can use to place your device as you work out.
You will also monitor your workout progress in real-time using the LCD intelligent display that comes with the device. The LCD will give you all the vital workout data to help you achieve your work out goals. The bike is also very portable owing to the wheels that come with it.
The bike's 35lbs flywheel will give you more intensity during your work out. It is a massive flywheel that promises a smooth and better ride. Besides, you will find the caged pedals very useful and convenient. The paddles come with adjustable straps that increase stability and comfort. Moreover, the adjustable seat is made with a soft, breathable sponge that makes cycling very comfortable.
Pros
• Adjustable resistance and emergency stop
• Aluminum alloy bottle holder
• Digital work out and pulse rate monitor
• Wool felt brake pad
• Comes with a useful belt featuring a driven system
• Multi grips handlebars mounted with a tablet holder and pulse monitor
Cons
• A bit pricey
• The monitor doesn't show resistance
• After-sales service not listed
Our Choice for the Best Peloton-Alternative
Choosing the best peloton bike is essential for a successful workout. The top 5 bikes that we have reviewed today are great choices. It was difficult for us to settle on the overall winner. However, after many deliberations, we decided on the Sunny Health Indoor Bike.
What made this brand to stand out from the rest is its large bottle holder, stable frames and wide legs, and heavy flywheels. The bike is also a one fit family device thanks to the adjustable and durable slip handlebar that meets all sizes.