Ways to Relieve Pregnancy Back Paint: By the time your third trimester rolls around, you most likely are starting to experience some sort of lower back pain. For some pregnant women, it starts in your second trimester, while others experience it most in the third trimester. If you're worried about lower back pain and want to know why you have it, how to relieve it, and what to activities to avoid then read on!
WAYS TO RELIEVE PREGNANCY BACK PAIN
Personally, I've had bad pregnancy back pain all four pregnancies–the worst was my first, when I think my body was just adjusting to growing a fetus. During that pregnancy, I had the luxury of seeing a chiropractor which lessened some of the pain; but, I haven't seen one since.
Instead, for my last three pregnancies, I've worked hard to strengthen my core muscles (as much as I could between four pregnancies in six years) to alleviate a lot of the pressure; but, I still suffer from sciatica pain during pregnancy–and it goes away almost immediately when I give birth! And no, it's not the epidural that lifted it–I've had three natural medication-free deliveries; but, felt immediate relief of back pain each time. (Or maybe it just meant that that pain was coming from somewhere else 😉
Anyhow, here's everything I've learned over the past six years about relieving pregnancy back pain, lessening its impact, helpful tips for managing it when you have multiple kids, and things to avoid that exacerbate it!
WHY DO I HAVE LOWER BACK PAIN WHEN PREGNANT?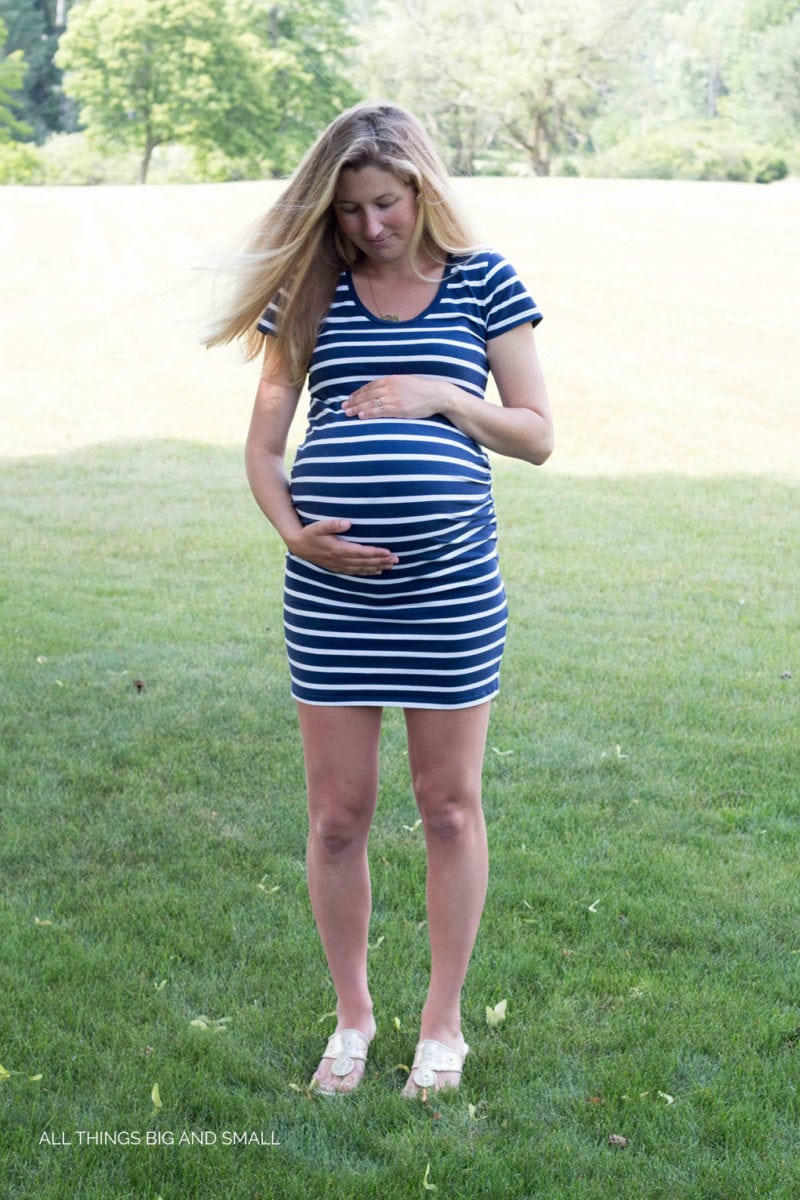 First thing first, let's talk about why you have lower back pain during pregnancy. Simply put–you are putting on extra weight with the baby in your stomach, which is stretching and putting tension on your back muscles. As your pregnancy progresses, your body releases Relaxin, a hormone which helps your pelvis widen to accommodate the growing fetus. That alone can be painful and add to ligament pain originating around your hips.
Nothing is wrong (make sure to ask your midwife or your OB/GYN since I am not a health provider) but some discomfort and pain is normal. Your body is growing a BABY!
I've typically put 30-35 lbs. on each pregnancy–that's a lot to carry around, and no wonder your body is out of alignment. Think about carrying a 25-35 lb. weight off the front of your tummy–that's what is happening.
Good news is, there are ways you can lessen the pain you feel: I've experimented with different exercise programs, stretches, and even pregnancy products to see what works and what doesn't!
*affiliate links have been used at no cost to you see my disclosure policy here
TREATING PREGNANCY BACK PAIN
Stretches and prenatal yoga for back pain

Practice yoga:

I try to do at least two classes a week of yoga and stretch my back daily at home in the evenings.
There are several good prenatal yoga programs you can do either on Youtube, on a DVD, or a regular yoga class modified (what I do.)

Stretch that work on your back:

Upward facing dog
Downward facing dog
Side stretches
Child's pose modified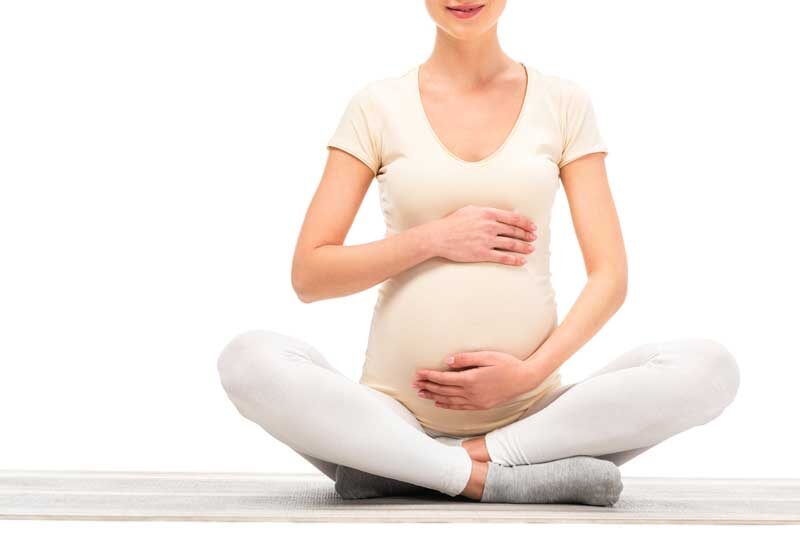 Roll out your back with a foam roller

Since I'm not a fitness instructor nor health professional, I am going to recommend you search Youtube for a video on this. I use our foam roller (this is the exact one we have) almost daily and roll out my back, my legs, and my hip flexors.
I also then lay on the foam roller with it perpendicular across my back, supporting my neck with my fingers.

A chiropractor or physical therapist

Depending on what your insurance will cover, you can always see a health provider who will give you guidance on stretches to do, chiropractic adjustments, or exercises you can do to lessen the back pain. You can see either a chiropractor or a physical therapist depending on what your health provider recommends.
PRODUCTS THAT HELP TREAT LOWER BACK PAIN WHEN PREGNANT
While I am hesitant (and to be honest, very skeptical) of buying any product that claims it will help my back pain, these products have helped me a lot!
BACK SUPPORT FOR SLEEP WHILE PREGNANT
Pregnancy sleep pillow (this is the one I have)– for some reason, I never bought a pregnancy pillow my first three pregnancies. But, this last pregnancy has been hardest for my sleeping habits (funny because my kids still run me ragged!) And after weeks of sleepless nights and mornings waking up with back pain, I invested $30 in a pregnancy sleep pillow. You guys, WHY did I wait this long to buy one? Depending on what kind of sleeper you are (side, back, or stomach) sleeper, you'll want to buy a different type of pillow.

Minimalist pillow options: Since I am a side-sleeper naturally, I just needed a little support between my legs to keep my alignment, and a little support for under my bump, so I bought a minimalist pregnancy pillow.
Full-body pillows: This is the top-rated full body pregnancy pillow. I have friends that swear by it!

[show_shopthepost_widget id="3607396″]
Mattress topper- We did invest in a new mattress earlier this year, so I knew my back pain wasn't from an old mattress. But, I did need a little more cushion, so we added an inexpensive (as far as mattress toppers go) mattress topper. We have a Sleep Number bed, and the next step up was 1K more (which we didn't want to spend) for some extra padding, so we opted for this non-toxic mattress pad for $180 instead. It's been great and gives me the extra cushion I need to surround my big bump!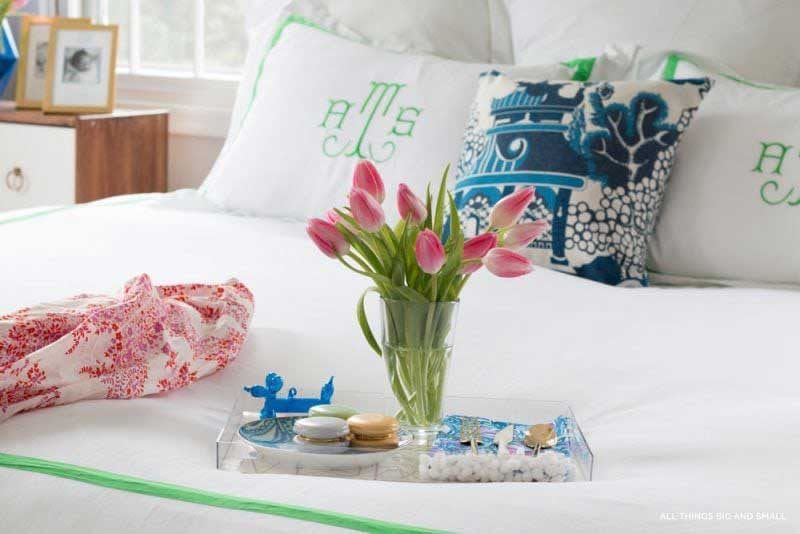 PREGNANCY SUPPORT FOR BACK PAIN
Back support undergarments- You guys, I am sometimes a cheapskate (if you couldn't tell already). So I waited until my third pregnancy to buy support. Why I waited so long, I can't justify!

Support undershirts:

I have two of these even though they are expensive–this shirt gives you just enough support on your bump and your back that you feel sucked in; but, not claustrophobic. I wear mine as an undershirt and then put a shirt over the top. Even with summer pregnancies, it is worth it!
TIP: They will go for half off occasionally on the company website, so I buy them on sale to save some money.

Maternity support bands:

Personally, I haven't tried these but I have friends who say it saved their backs or pelvises!
Ask your doctor what type would benefit you and your back pain.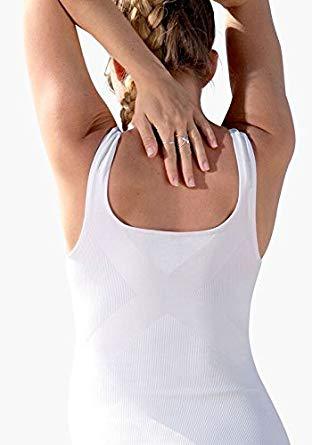 maternity undershirt (I have two of these!)
WAYS TO REDUCE BACK PAIN FROM PREGNANCY
Heating pads– Invest in a $25 heating pad (we have this one) that will give you relief during your pregnancy and your labor! Plus, you can use it later for any types of athletic injuries!
Epsom bath salts (this is my favorite)- I never take as many baths as I do when I am pregnant! I love these lavender-infused Epsom bath salts that help me relax in the bath and relieve my sore muscles. A long soak at night helps open up my back and ease the muscle pain I feel.
Kinesio tape- I haven't personally used Kinesio tape but am going to try it for my last trimester. The research supporting them is compelling, and the fact that professional athletes find relief with it makes it legit in my mind. There are all types of different tape designs you can do to support your belly and relieve your back pain, see them here!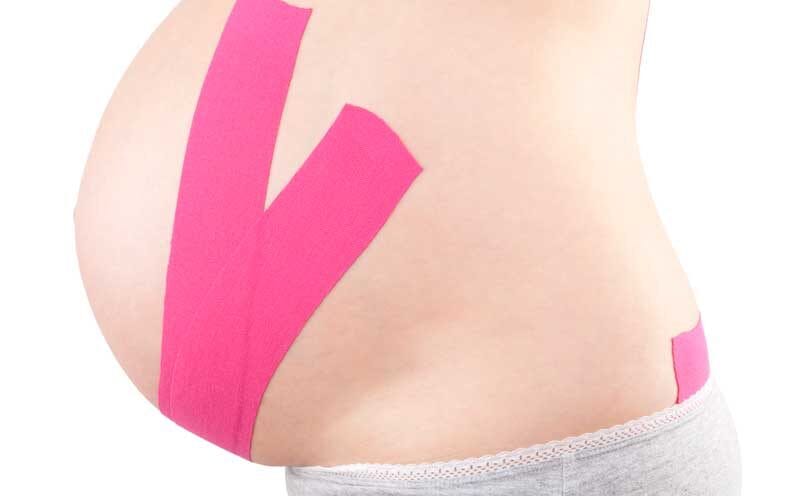 Stability ball or yoga ball- We weren't designed to sit at desk chairs all day (nor on the couch). But when you are pregnant, standing for long periods of time isn't recommended either! So what are you to do? Use your exercise/ birthing/ stability ball to sit on. The great thing is that you'll use this in so many different ways: as a chair when you are pregnant, as a birthing ball when you are laboring, and as an exercise aid when you are working out postpartum getting those abs back! Remember, you can always deflate it in between pregnancies to save space! Of course, my kids love playing with our's and pretending it's a huge blue boulder rolling down the stairs a la Indiana Jones, so we keep ours inflated.
[show_shopthepost_widget id="3607416″]
THINGS TO AVOID THAT MAKE PREGNANCY BACK PAIN WORSE
Lifting heavy objects- My grandma always says "don't lift that or your uterus will fall out!" While I don't think that is true, I do believe that you should take it a little easier during pregnancy than you usually do. First and foremost, it's hard to keep good form when lifting when pregnant. You really shouldn't lift with your back at all, instead, you should be lifting in a squat and let your legs do the work! Also, with three children ages 22 months to 6 years old, I have to lift heavy objects (i.e. kids) daily! It's not an option not to. So I just try to use good form.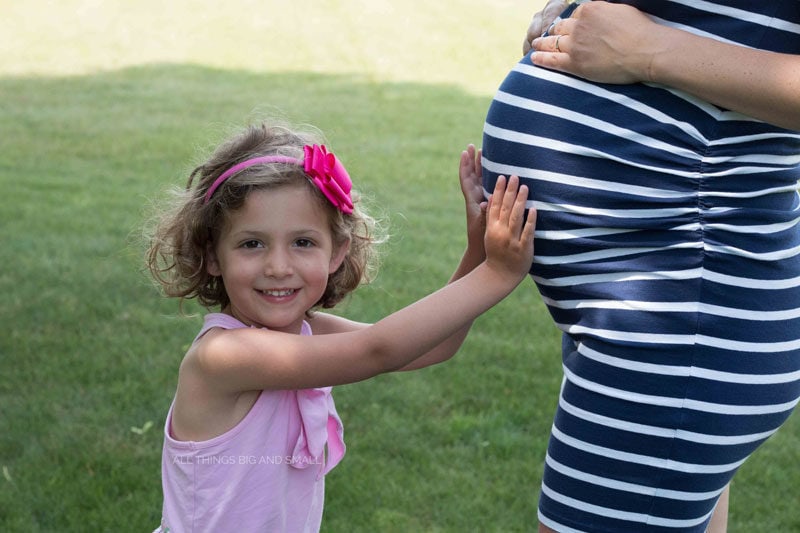 High heels: I have to admit, I laughed out loud when I read this! Let's just say that in no way I am wearing high heels when I am really pregnant and have back pain! Instead, wear supportive flat shoes (Rothy's are my current favorite!)
Standing long periods of time: This is self-explanatory. While being active during pregnancy is great (I walk a lot when pregnant out of necessity…ahem, three kids!) standing in one place is not. Make sure you keep comfortable, keep your blood going, and avoid standing long periods of time when your posture might slip into poor form, hence putting more pressure on your back.