Road trip with kids: Games & Activities that they'll love! Thinking about taking a road trip with your toddlers, babies, and/or kids? We recently took a 34-hour road trip with our 20 month old, 4 year old, and 6 year old and lived to tell the tale!
No, really, it wasn't that bad! It just takes planning! Read below all my tips for keeping young kids occupied on long road trips via non-electronic and electronic activities!
ROAD TRIP WITH KIDS
Traveling with young kids poses a dilemma…kids naturally want to move! And on a road trip, you are limited to getting their wiggles out at rest stops or restaurants, so you have to rely on mental stimulation to keep them occupied.
While my kids do watch TV, we try to limit it for the most part in our daily lives–everyone is happier when they aren't TV zombies. And no one was going to be happy watching 10 hours of TV.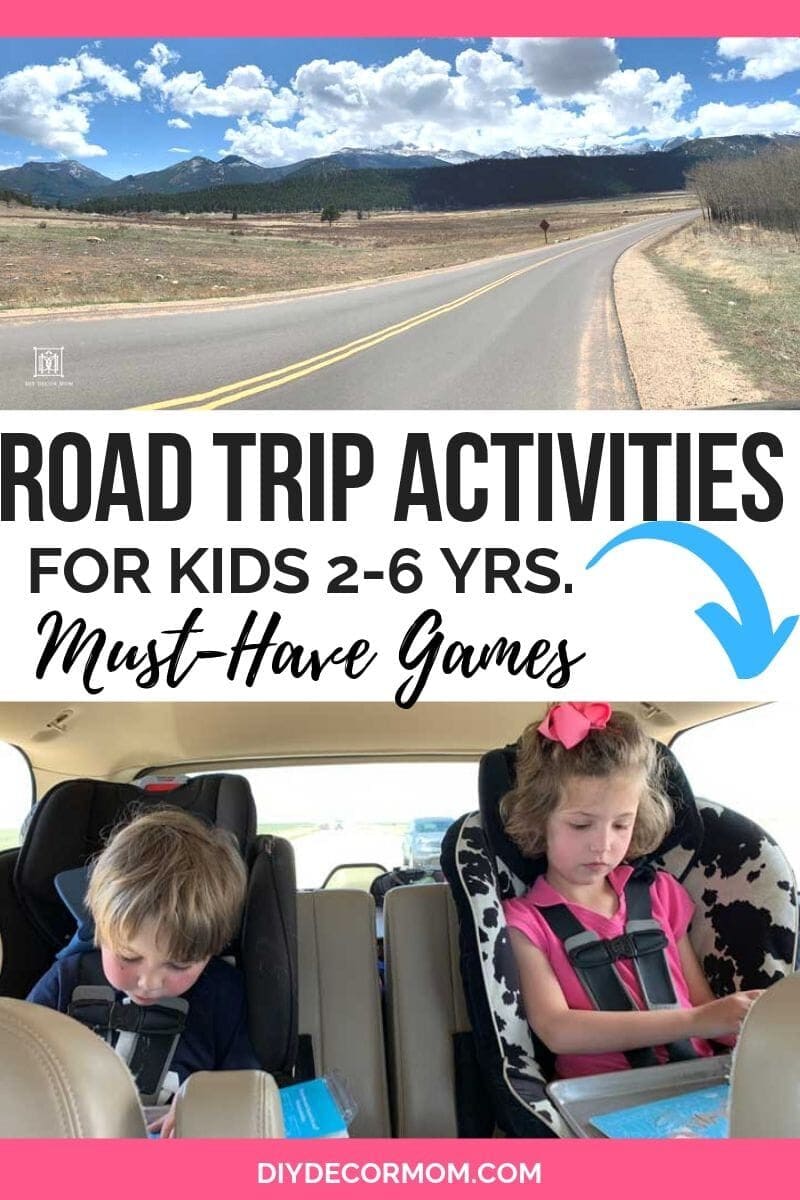 So, I stocked up on non-electronic activities that would stimulate their brains and more closely resemble a normal day at home. Here are our favorites for kids under two (21 months), four years, and six years old!
Plus, I will share our favorite apps that my kids used on the iPads and how we did movies with two forward-facing kids and one rear-facing child.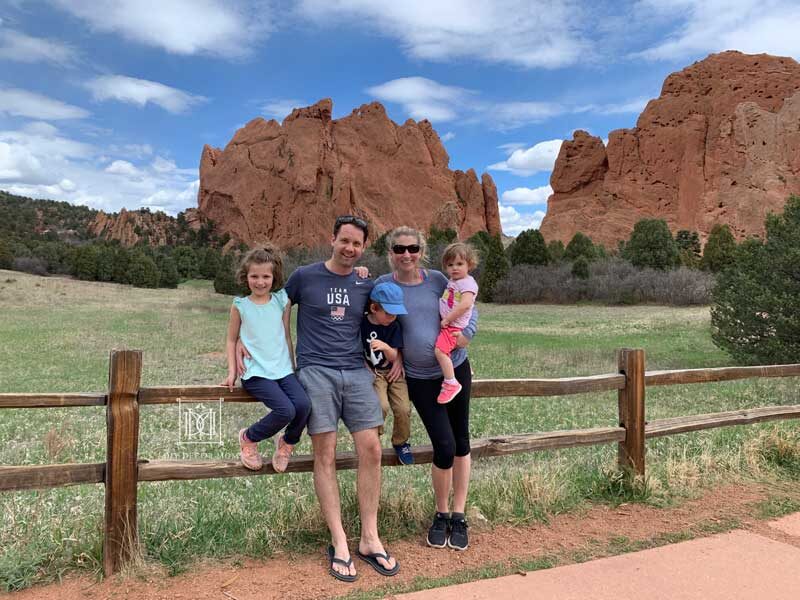 Here was our driving schedule:
Day 1: Left mid-day (let the kids run around in the morning while we packed the car), 12 PM departure, arrived 12 PM in Chamberlain, SD (should be 10 hours away but it took us 12 with two stops and dinner.)
Day 2: Left first thing in the morning to drive to Badlands National Park (2 hours), drove through Badlands and hiked all day. Then, we left for the second hotel in Rapid City, SD (where we had dinner and spent the night)
Day 3: Drove to Mount Rushmore (30 minutes), then through Custer State Park 45 minutes (where we stopped to do activities and eat lunch and drove through 1 hour), then through Wind Cave National Park 45 minutes (where we stopped to do activities). Next, drive to Boulder, CO (5 hours, which took us 5 hrs 45 minutes).
Day 4: Morriston CO and Red Rocks
Day 5: Rocky Mountain National Park
Day 6: Garden of the Gods
Day 7: Arsenal Wildlife Sanctuary
Day 8: Boulder and drive to Des Moines, IA (10 hours)–took us 11
Day 9: Des Moines to Milwaukee (6 hours)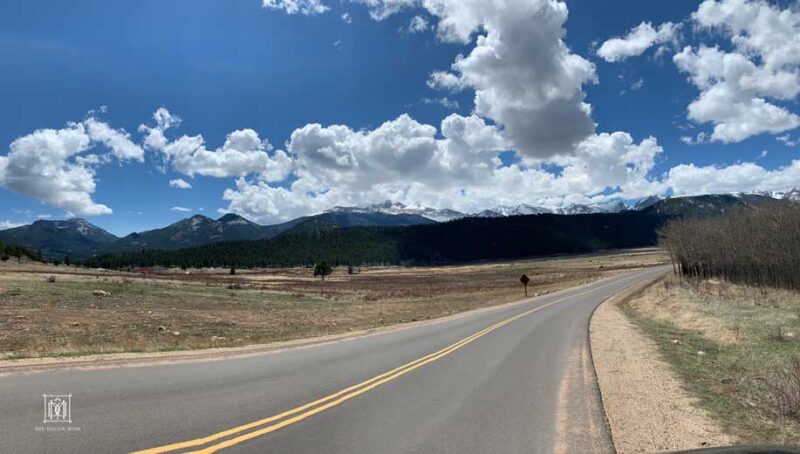 NON-ELECTRONIC ROAD TRIP ACTIVITIES
By purchasing a variety of new art activities and easy games for young children, we were able to avoid using electronics for the majority of the trip. The first day, we went for nearly five hours without resorting to a movie and/or iPad apps! Here's what kept them occupied
Mom Tip: Stagger bringing new items out! First, let the kids play with a new thing, then have them play with old things, and then mix things up again.) Don't be in a hurry to show them all your new toys–I purposely didn't show them half the toys until the way home so they had new things to play with.
DIY Activity Board made by drilling two holes into a baking sheet and attaching a rope. The rope goes around the headrest of the seat in front of the child, and provides support so it stays flat.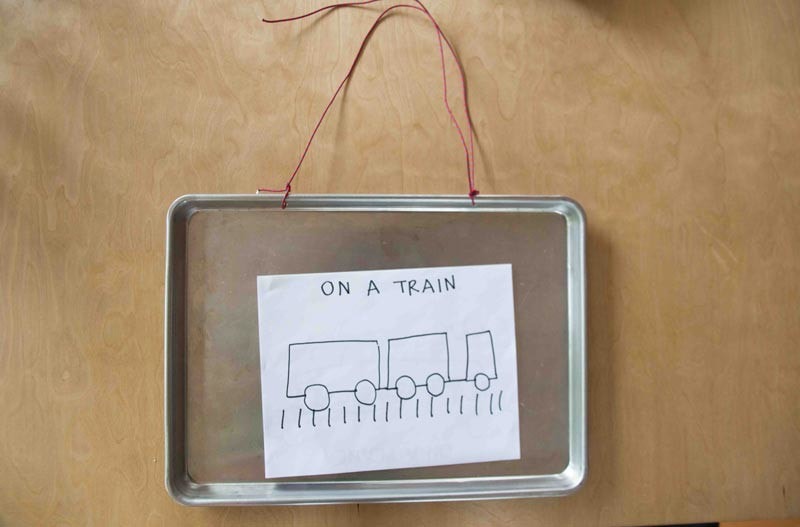 Both older kids loved Melissa & Doug On the Go Scratch Art. We brought it out on the way home, and it took up a good hour of the drive. Plus, the kids have gone back to it multiple times since to finish their drawings. You will have small shavings produced from etching off the background, so it's best to do this on a tray.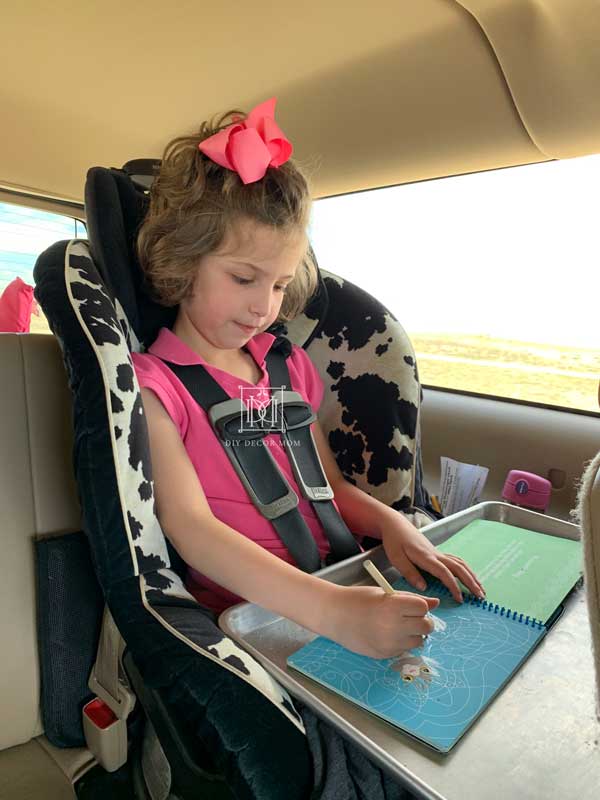 Melissa & Doug On the Go Scratch Art
Another non-mess road trip activity favorite was the Melissa & Doug On The Go Magic Color Pads. We purchased the dinosaur and sea life and the fairy and princess. This is a great one because all you need is one marker and the notepad–it's also great for taking out to restaurants (which we did a lot!)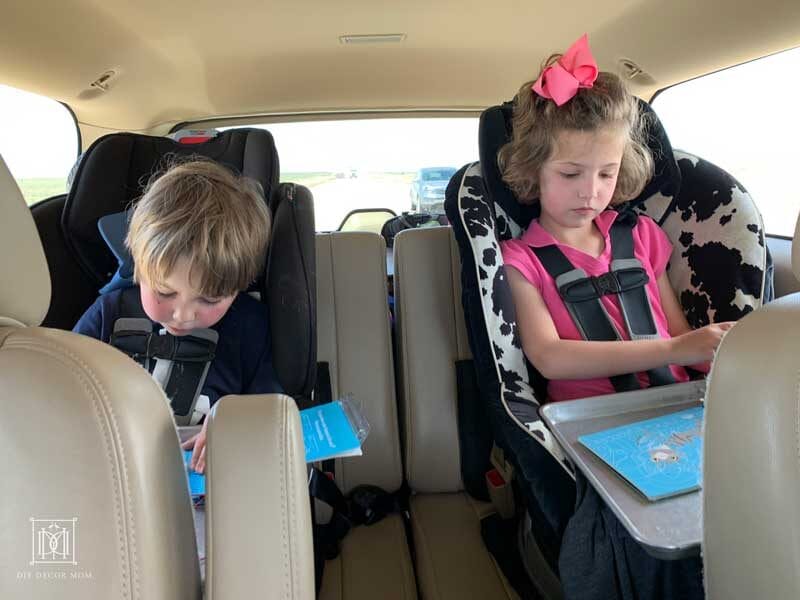 I also picked up three Crayola Daniel Tiger/ Princess Coloring Pad . With each coloring book, come five or so markers that only activate color on the page–so you don't need to worry about markers getting all over your car or your car seats. The older kids had the most fun with these; but, Brooke enjoyed scribbling with all her heart anyhow. If you want the kids to use the magic paper like regular blank paper, you can purchase a refill pack.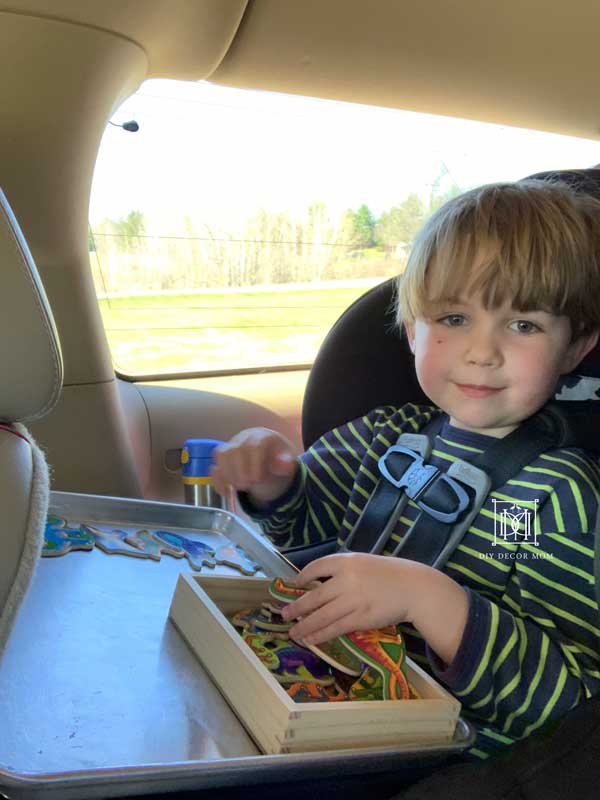 Dinosaur magnets/ Disney wooden magnets/ magnetic letters/ you can use this inexpensive magnetic board to make your cookie sheet magnetic! We didn't have the magnetic board; but, the kids did great keeping them on their cookie sheets!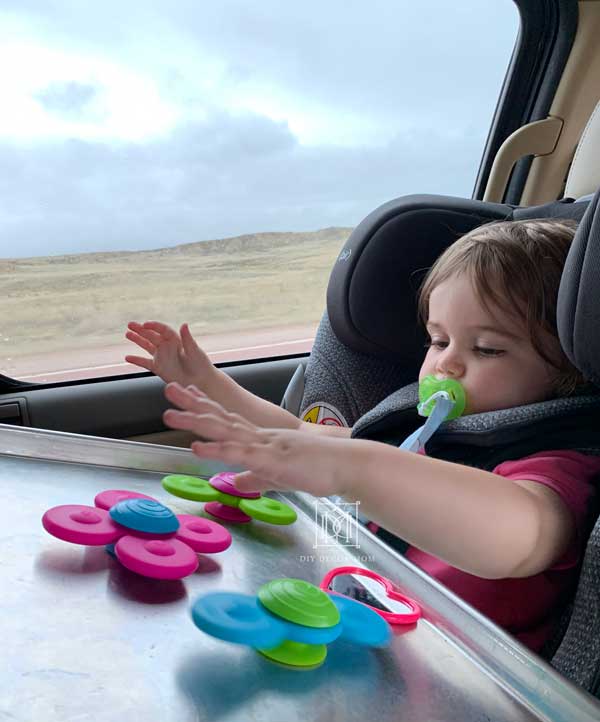 This Spinner was an impulse purchase at our local toy store, and I am so glad I did. While the older kids weren't crazy about them, my youngest one was. It would distract her when she was hitting the wall with being in the car too long. Attach it to a DIY activity tray, or the back of a firm book.
While staying in the hotel room, I introduced the kids to Spot It Junior. It's best to teach the game first when you are outside of the car, and then to play it inside the car or at restaurants. This was a fun game for both older kids, and our youngest (21 months) liked holding the cards and pretending to play. If you have older kids, Spot It (regular version) is a more advanced version!
More Road trip ideas for little ones:
Go Fish and other games– this pack was given to the kids (we split it up into three and put one in each Easter basket), and the kids loved them. Although we didn't play the games per se, the kids all had fun with them–Jack loves matching and categorizing, so he had a field day with Animal Rummy 🙂
WikkiStix– I had these for the kids at our wedding and they were a hit! If you have school-age kids, this is a lifesaver!
Reusable sticker pads– we didn't bring our's (we have probably 4 of these sets) because the kids use them daily at home. I wanted new toys to play with on the road. But, if your kids don't have them–buy them! Seriously it's some of the best money I have spent!
What we didn't have in our road trip activities stash:
Anything that required constant attention from me–nothing with tiny parts that would fall down in between the seats.
Stickers–NO stickers allowed in our car! Furthermore, getting stickers out of their sheets can be challenging (and frustrating) for little ones.
Silly putty–ummm, why would you want that in your car or possibly in your kid's hair? And playdough for that matter? I saw it recommended in another blog post and I thought, WHY would you want to do that to your upholstery?
Non-magic markers, crayons, or colored pencils–unsupervised art supplies is a no in our car!
Eating food without the trays–the trays kept our car seats pretty darn clean, and allowed the kids to have a "tabletop" to eat upon.
Legos- no small parts or choking hazards for Brooke.
No noise-making books or electronic noises–they drive me crazy!
Tips for dealing with car sickness in little kids during road trips:
As much as I would love my kids reading to themselves the entire time or a majority of the time, we battle car sickness with my eldest. She is luckily at an age where she can tell us when she is feeling yucky, and we have her look out the window.
But, it does mean some preventative measures on our part: no reading little books, no excessive eating on windy roads, no working on tiny fine-motor movement when we are going through mountains. At those times, we would listen to an audiobook, some kids music, or even put on a movie.
We have a built-in movie system in our Suburban, which allows Bowe to watch the TV from a distance which doesn't make her sick. If you have littler ones, you can ask your doctor about giving them Dramamine; but, in our opinion, it makes the kids really sleepy.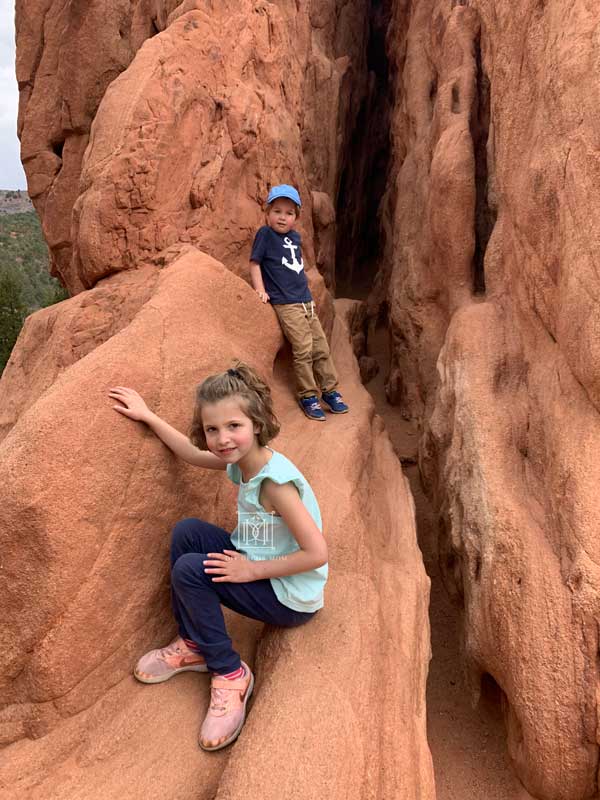 EDUCATIONAL GAMES/ READING FOR PRE-READERS:
My kids don't read yet. Well, my six-year-old does but the other two don't. So, I rented a bunch of books on tape (I guess you call them audiobooks now) from our local library for stories that the kids had loved and heard before. While we aren't yet into chapter books completely (we tried Mary Poppins and had mixed success), the older kids did love listening to stories and following along occasionally in the books on hand.
Audiobooks We Loved:
Books on Hand to Read:
ELECTRONIC ACTIVITIES/ APPS
My kids only get to use the iPad apps when we are long car trips (the iPads are out of bounds the rest of the time–or attached to my DIY Peloton). So these are easy apps that kids can do by themselves. We purchased the Usborne Princesses one four years ago, and my daughter still loves it!
For the youngest ones: Again, we purchased most of these over four years ago, so they are tried and true favorites with our three kids.
Want to see our must-have toys?